Asheville chef nominated for national cooking award
by Emily Honeycutt – [email protected] – Asst. A&F Editor

Not everyone knows what to do in life to make them happy, but for Curate owner and chef Katie Button, that realization came at the right time and led to an exciting and unexpected career path.
Button, nominated by the James Beard Foundation for the Rising Star Chef of the Year award, has a master's degree in biomedical engineering. She said during her pursuit of a Ph.D., she had an epiphany.
"I was about to start my Ph.D. doing neuroscience cellular research," Button said. "I think it was looking at the seven-year Ph.D. program followed by everything that comes after that that made me reflect a little bit on if I'd been happy doing what I was doing, and what I'd been most happy doing. Cooking has always been that thing for me. I just never thought of that as a career possibility. So I made a big decision and quit my Ph.D. program two weeks before I started."
After deciding to quit the Ph.D. program, Button said she started doing what made her the happiest.
"(Quitting the program) was a good decision for me because I'm very much a person who follows through with all my commitments, and that's the first time I'd ever done anything like that. I needed to say 'stop' on that path, and then I ended up finding a job at a restaurant of Jose Andres in Washington, D.C. And then from there things have just kind of fallen into place."
This is Button's second time as a nominee for the Rising Star Chef award.
"I think last year's was the huge shock because we'd been open only a year, and I didn't even know they were posting the list that day, and I got a text message form Jacob Sessoms of Table, and he said, 'Congrats,' and I was like, 'Congrats? Congrats for what?'"
Button said the nomination proves the interest in her and her restaurant reaches farther than Asheville.
"Just having the nomination a second time made me feel like people are really paying attention to what we're doing and are excited about what we're doing on a national scale, not just locally, which is amazing," Button said.
Button said she specializes Spanish cuisine, which is the dominant flavor of her restaurant.
"What has most impacted my path as a chef and the way I cook now has been my time with Jose Andres in D.C. and at Bazaar in L.A., and also my time in Spain, which was a truly amazing experience."
Although Button is well-versed in Spanish cuisine and chemical engineering, she said she will never cease to learn and to grow.
"From here, you know, I'm still learning, and I have a lot to learn," Button said. "I switched careers when I was 24, and now I'm 30, so that's been six years. I'm comfortable with Spain and Spanish food, but I want to start pushing myself and learning more things."
Button said she continues to add to her worldly repertoire of cooking skills.
"Every year I do an internship. I've made that my promise. So far, I've done two. Last year I went to Noma, which is an amazing restaurant in Copenhagen, Denmark. This past year I went back to Barcelona. I wanted to see a little bit more of Spain," Button said.
Although Button travelled across the world, Asheville holds a special place in her heart.
"We moved down here because we were looking for a place we wanted to live, and we thought, well we can live anywhere. We looked all over North Carolina and came through Asheville and just fell in love, and it's been so great," Button said.
"The recognition we received after opening the restaurant is just truly amazing," Button said. "I'm still a little speechless about some of it."
Button also speaks of the strong bond in the community of chefs in Asheville.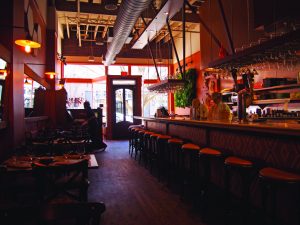 "We all know each other. Elliot Moss of the Admiral got nominated for Best Chef in the Southeast. We all keep tabs on each other because we're all in the same community. We're all rooting for Asheville," Button said. "The food scene that we have going on here and the number of chefs and independent restaurants and how excited they are is truly wonderful."
Regardless of whether or not she wins the James Beard Foundation award, Button said she is honored.
"I'm just thrilled to make it on the list," she said. "The other chefs who are on there are from amazing restaurants."