Pickleball rapidly growing in Asheville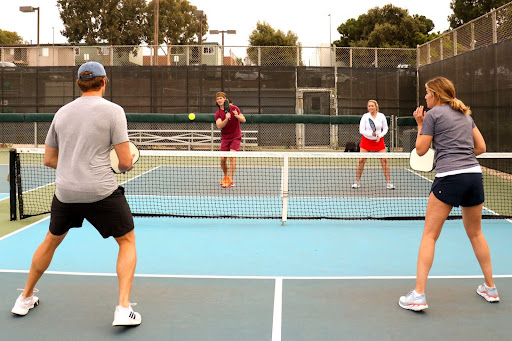 The fastest-growing sport across America has made its way down south as Asheville is now the third most popular city in North Carolina to play pickleball. 
"Pickleball's popularity exploded during the pandemic when many Americans were looking for responsible ways to socialize and stay active. But that was only the beginning, pickleball's growth has continued even as lockdowns have ended and normal life has resumed," said co-founder of Pickleheads Brandon Mackie. 
The sport, a cross between ping pong, badminton, and tennis, was invented by 3 vacationers near Seattle, in 1965. According to The Sports & Fitness Industry Association, Pickleball has an estimated 4.8 million players and that number has grown by over 39% in the past two years. 
"Industry experts are predicting we'll see 40 million players by 2030. If that happens, pickleball will become the largest racquet sport in the country, almost twice the size of tennis," Mackie said. 
Asheville Parks & Recreation added indoor pickleball courts at two community centers in 2012 and 2014 with the first outdoor courts debuting in 2016. They say Asheville now has 12 outdoor pickleball courts and 6 indoor courts. 
"As both tennis and pickleball have experienced exceptional growth during and following the COVID-19 pandemic, local players of both sports came together with ideas to balance and expand shared court usage to support both racquet sports. Through this process, the Asheville Pickleball Association was incorporated. Ideally, we'll be able to invest in the development and expansion of sport-specific sites. In the short term, all public outdoor tennis courts will also be dual-lined for pickleball this year. Some sites will also feature rolling nets," said Asheville Parks & Recreation program and operations manager Christo Bubenik. 
Bubenik says Picklers are open to sharing the game with newcomers. Asheville Parks & Recreation hosts pickleball beginners clinics on the third Friday of the month at the Stephens-Lee community center. Asheville Sports Club also hosts free beginner's clinics at their club in downtown Asheville. 
"We have played for a little over a year. We started playing because we are both getting older and we both love sports and we know we can play pickleball as we age, much like golf and tennis," said Asheville resident Clarissa Hyatt-Zack. 
Pickleball is known for being an "older person" sport. According to Pickleheads, players aged 55 and up were the largest age bracket of pickleball players in 2021. 
"Asheville is on the list for the 'Top 10 places to retire' and I believe there is a correlation here. Pickleball and retirees go hand-in-hand. Pickleball is the fastest growing sport in the US right now as well so it doesn't surprise me Asheville jumped on that bandwagon," Hyatt-Zack said. 
With the rise of pickleball, the sport of tennis seems to be becoming overshadowed. Most tennis courts are now being dual-used for both tennis and pickleball. Hyatt-Zack says this has caused some frustration for both groups but the relationship between them is not as rocky as things seem.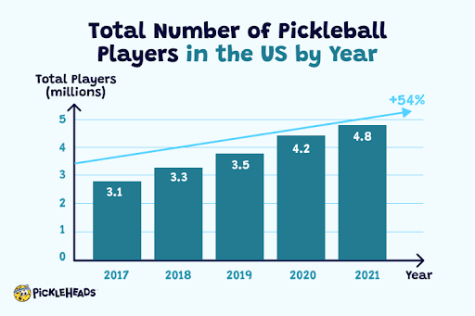 "The relationship is great at places like the Racquet Club because each sport has its own dedicated courts and no one has to share. When playing on shared public courts like Montford and Oakley, the relationship is more strained because both sports are so popular and everyone wants to play and be patient waiting their turn. It's also frustrating for pickleball players who have to bring their own net, put it up, and take it down after their turn," Hyatt-Zack said. 
Mackie says the magic of pickleball is it's easy to learn, but hard to master.
"Beginners can go out their first time, learn the game, have fun, and even win a few games. But advanced players stay challenged, and keep coming back for more. This dynamic is a big reason why pickleball continues to grow like crazy," Mackie said.