Live at Lunch returns to UNC Asheville after COVID lockdowns
Live at Lunch has returned to UNC Asheville following COVID-19 lockdowns and pandemic restrictions that prevented the weekly spring event from occurring. 
Many musicians performing expressed their happiness at the return of Live at Lunch, citing the many opportunities UNCA gives them to perform their music. 
"I've been playing here for almost a year now, so it's good to have Live at Lunch back," said senior Austin Price. 
While some have performed on campus for only a short time, others have been waiting a long time for the return of Live at Lunch. 
"I've been playing for roughly three and a half years," said Julian Mistretta, a junior at UNCA. "I love the opportunity to perform."
According to the UNCA music program website, the music technology program combines music, engineering, math, computer science, music business and electronics to teach students how to professionally mix and record music.
"I think one of the great things about this campus in particular and the music program here is that it is highly individualized and it is very flexible to the individual," Mistretta said.
Reading further, it states that the jazz and contemporary music performance program exists for those pursuing careers as singers, instrumentalists, composers and arrangers.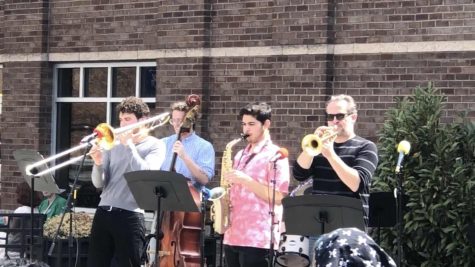 "I know people who are doing undergraduate research in music theory alongside their own studies," Mistretta said. "I'm more into performing because I'm a BFA major here and this program in particular has given me a lot of opportunities to perform as much as I want."
Those looking for more information or content by the UNCA music department can always find more online.
"You can always find the schedule for Live at Lunch and all of our other events on our website at music.unca.edu or @UNCAMusic on social media," said Matthew Richmond, a composer and educator in UNC Asheville's music department.
April 6 will see the Hot Club Lipinsky and the Honky Tonk Ensemble performing live outside on Reed Plaza starting at 12 p.m.