Foundation Skatepark: North Carolina's largest DIY celebrates 15th anniversary
During the greatest recession a group of friends skated aimlessly around Asheville's River Arts District. 
What they would discover would change the landscape of the city and make Western North Carolina a skate scene hotspot.
"We find these old, abandoned places and try to build our own spot on them and take advantage of that. Generally, they have a very limited timeline," said Rob Sebrel, owner of Push Skateshop in an interview with Mountain Express in 2016. 
This idea of scavenging for the perfect spot led the group to an old pile of bricks and an empty concrete lot, the perfect "foundation" for the next 15 years. 
A passionate community has arisen, an underground group who are dedicated to seeing the progression of skateboarding one brick at a time. 
"It's something new to skate. On top of that, it feels different to skate something you built yourself. When you and your friends put your own time, money and sweat into a project, you build a community," said local skater Rameriez Sanchez.
Although the lot started off empty and decrepit, 15 years of hard work has transformed the area into a legit skaters paradise that is a roadstop for many professionals along their East coast journey. 
"The Toy Machine team came out last year and did a demo which was insane. But every year Thrasher stops by and holds a competition at the park. I think the last one was Halloween," said  Sergio Barbosa, skater and UNC Asheville student. 
The presence of respected skate powerhouses has only solidified the longevity of the do-it-yourself park since in 2015 the park was approved to stay rent free as long as it could crowdfund its insurance costs. 
With the diehard community that inhabits the spot daily it was no time until the park surpassed its donation goals and has continued to use the yearly excess to expand and improve the spot.
"It's not only to go out and build, or spend as much time with friends, but keep the community of skateboarding alive and create that positive vibe" said skater and UNCA student Hylend Grit. 
This go out and do-it-yourself attitude is one that encapsulates skateboarding and takes place in Asheville's River Arts District. It is only fitting as the constant renovations and graffiti feel right at home.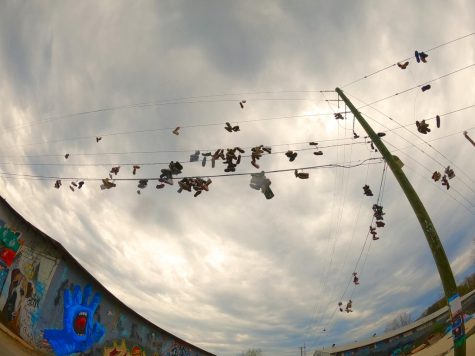 "Having everyone around you and not necessarily doing the craziest tricks but encouraging progression and supporting each other makes that place different," said Grit.   
If you want to help the progression of skateboarding in Asheville Foundation is now a nonprofit organization and expects donations in person downtown at Push Skate Shop or electronically via Venmo @FOUNDATION_DIY.