North Carolina students showcase their unique talents and share what motivates them
Student artists give an inside look into their process and how they became the artists they are today. Alongside their showcased work, they dissect some of their past and what challenges they may face. 
UNC Asheville senior Kai Tilly has been interested in art since they were a young child, recalling times spent with their babysitter filling in black and white pages with color and doodling imaginatively. 
"I mainly started with just graphite and paper because that was all that was available to me at the time. I mainly do digital art now, but I also do paintings and colored pencil drawings," Tilly said.
Kai spent 14 years living in Kenya, Africa. They said the environment they were exposed to influenced how they thought about their art and its creation.
"It influenced my art because I grew up in an area where drawing anything sort of taboo, like gay people, would require a lot of questioning and it would not be accepted. Now that I'm not in those places I feel like I have a lot more freedom to do my art the way I wanna do it, and draw what I want to do instead of keeping it PG," Tilly said.
Tilly's commissions are open and they are available to contact on social media. They can be found on Instagram as @baby_baozisaur and @baozisaur.hoot. Their Twitter username is @baozi_saur. 
"I'll draw almost anything unless it's racist, homophobic, transphobic, xenophobic, anything like that," Tilly said
Tilly said they get most of their inspiration from other artists they see on Instagram and Twitter, but they also pull inspiration from classical artists like Van Gogh.
"It lets me express myself, it lets me sort of get out that artistic angst," Tilly said. "Like I want to create something but I don't know what," 
Tilly typically creates art to put the images in their head out on paper, canvas or digital space. 
"It's also a good stress reliever for me. I get a lot out of drawing in terms of letting my brain relax, go ham and not think about things too much," Tilly said.
Ever Templeton, 17, attends Tri-County Early College in Murphy. When she graduates, she will receive an AA and AF alongside her high school diploma. 
"Art for me is about conveying messages that are harder for me to articulate with just words. It's also become a way to relieve stress from my life. To be able to have something I can focus all of my attention into at that time helps me to forget about anything else that might be bothering me. I feel like it is such a unique way of communication," Templeton said.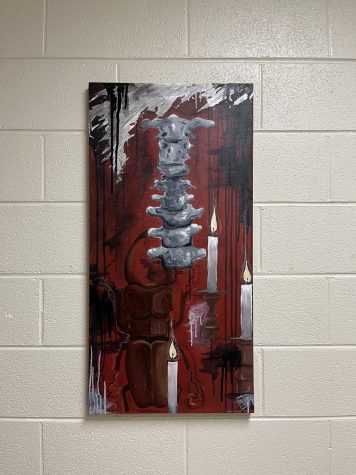 Ever says when she graduates she intends to further her education in the arts by pursuing a masters degree in the subject. 
"I've always had more of an artsy flair. Both my parents have creative mindsets and I've grown up seeing them constantly working with their hands and creating things. I remember my dad constantly talking about his time in art school and what he learned,"  Templeton said. "I also started to improve more and acquire more of an interest when I was taking art classes at the early college."
As of right now, Templeton said she is just doing things for people in her community, but her art is available to view on her instagram: (@evr._.t).
"I would say my art professor Mr. Kaylor has always been a great inspiration to me. He's always pushing me to think outside the box and constantly try new things. However, I am gaining inspiration from artists like Terry Turban, Alana Lindsey and older artists like Hannah Hoch and Egon Schiele," Templeton said.
Templeton said she's been experimenting with just about every medium once she began taking classes at TCEC. 
"I've found I enjoy using charcoal, painting with acrylic and I deeply love doing collage paintings and mixing pastels, charcoal and acrylic together,"  Templeton said. 
Templeton has trouble working on one piece at a time and finishing it, so she constantly has four or five huge pieces she works on at a time. She said this often complicates finishing commissioned pieces.
"I always have some kind of message and theme throughout my collage pieces. I don't think my work as a whole is trying to convey anything more than just that there are encrypted messages in them all, but what you think that message is, is really up to you, the viewer,"  Templeton said. 
Templeton said she's currently working on a collage piece that incorporates pieces of old Baroque and Rococo ceiling paintings, whilst adding more modern elements which conflict with the older images. Her idea is to compare and contrast the art styles of the different time periods.