UNC Asheville students join state-wide protest against N.C. House Bills
Students and professors walked out of class at 1 p.m. on Wednesday and gathered on the Quad to speak out against the North Carolina General Assembly and UNC System Board of Governors, specifically against N.C. House Bill 187 and N.C. House Bill 96. 
Both House bills 187 and 96 were passed in the N.C. House on March 22 and censor curriculum in North Carolina schools addressing systemic oppression. Both have passed the first read in the N.C. Senate.
The UNCA Black Student Association and Student Government Association collaborated to organize the walk-out, which included speeches, a walk around campus and an opportunity to sign petitions.
"We demand that history–especially the history of this country— be taught in its entirety, not just in public Universities, but most importantly within K-12 public institutions. We demand that history not be politicized," demanded the student leaders in a speech at the walk-out. "We demand that the legacy of those who fought for the liberation of the marginalized and the oppressed will not be stained by lies that seek to pacify the guilt of those who feed into a violent system of oppression at this university or anywhere else." 
The full list of demands can be accessed here. The speech can be found here and the BSA letter to UNCA students, faculty and staff can be found here. 
 "[Bill 187] is only geared towards K-12 at this point," said Lindsey Prather, N.C. House District 115 Representative. "That being said, when we look at both 187 and 96 together in context, it would not surprise me that the future intent is to expand these policies to higher education institutions."
House Bill 187, titled "Equality in Education," provides specific guidelines on what content students can be exposed to at K-12 schools. Content that addresses the existence of systems of oppression is not permitted. 
"Public school units shall not promote that… All Americans are not created equal and are not endowed by their Creator with certain unalienable rights, including life, liberty, and the pursuit of happiness," part of the N.C. General Assembly in Section 1 part C of House Bill 187 reads. 
If a school plans to expose students to or hire employees who have advocated for topics listed in section one, they must submit a request to the Department of Public Instruction 30 days prior. 
Section E of the bill cites that these restrictions do not apply to instructional content approved by G.S. 115C-81.61 which is another legislative document that prohibits the same content as House Bill 187. 
Documents approved by G.S. 115C-47(29c) are another exception. Among these approved documents are the Magna Carta, Mayflower Compact, and other texts that have influenced the United States rule of law. 
A discussion of oppression may be permitted if it is impartial.
"This legislation exists to silence marginalized voices, to push our identities back into the corner and erase stories that have only just begun to be included in the conversation," said the UNCA Black Student Association Leaders during the walkout. "From one side of their mouth they speak of equality and out of the other they tell us our presence in education is making it uncomfortable, maybe even challenging."
House Bill 96, titled "NC REACH Act," requires students at UNC system institutions and at community colleges to earn three credit hours of instruction in American History or American government to graduate, a curriculum determined by UNC Board of Governors. 
The bill also gives the UNC Board of Governors full power that supersedes any previous law to remove a curriculum they deem unproductive or unnecessary. In short, the N.C. House passed a bill giving power to a board they have influence in choosing to assess the productivity of curriculum every two years. 
The UNC System faculty handbook directly contradicts the N.C. House's extension of power to the UNC System Board of Governors.
"The University and each constituent institution shall protect faculty and students in their responsible exercise of the freedom to teach, to learn, and otherwise to seek and speak the truth," wrote the UNC Policy Manual. "The University and its constituent institutions shall not penalize or discipline members of its faculties because of the exercise of academic freedom…"
House Bill 96 is not only a violation of educational freedom but of the UNC System's handbook.
In response to these bills, schools across the system are organizing walk-outs and protests. UNC Chapel Hill coordinated a walk-out on Thursday, and North Carolina Agricultural and Technical State University plans to hold one next week.
"If students want to contact legislators, they should focus on the Senate," said Prather. "Specifically, if the bill passes the rules committee it will likely go to the Senate Education committee, so students can reach out to those members now to let their thoughts known."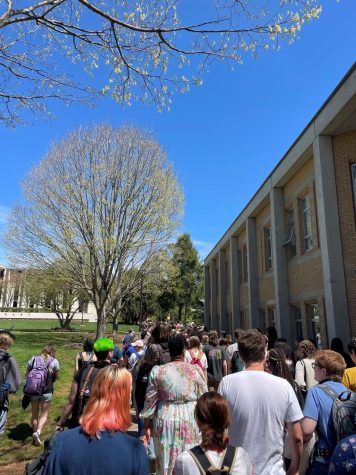 The University itself can take action at a local level. The student leaders used the "Anti-racist Continuum" to help inform themselves on what they wanted the university to look like, which is linked here. This document helps identify what the University needs to improve upon to become an anti-racist multicultural institution. 
UNC Asheville's revitalization plan, released September 2022, is linked here, which student leaders demanded be better funded and supported.
On the UNC System level, all eyes will be on the N.C. Senate as they move to either approve or deny House Bills 187 and 96 in the next few weeks.