A construction project on UNC Asheville's campus improves quality and infrastructure but annoys and inconveniences campus residents, according to students. 
"I definitely think what we're doing is improving our campus for faculty, staff and students. I was a student here a long time ago, so I really like this place and care about this place a lot. I want it to be a good place to be," said David Todd, associate vice chancellor of campus operations. 
According to Todd, the campus is currently at $50 million of deferred maintenance backlog with a state issued fund of 2 million yearly. This means repairs are always available and construction will continue. 
"It can be overwhelming when you think about $50 million worth of deferred maintenance that has to happen, but little by little we'll try to make it better," Todd said.
Todd said this will affect road and traffic patterns, impact parking, pedestrian travel, access to electric vehicle charging stations and City Bus and University Shuttle routes and stops.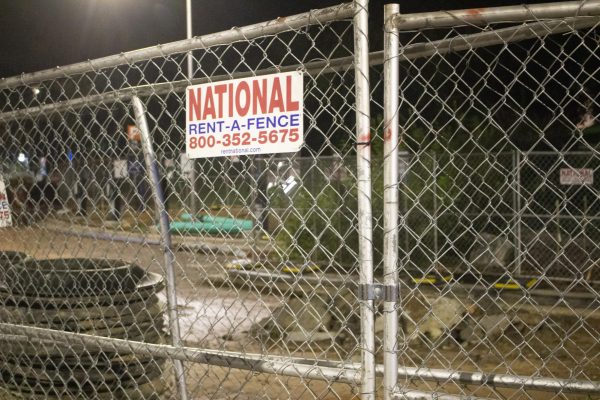 "If we don't encounter unforeseen conditions and the weather cooperates, we're probably looking good for sometime in October," Todd said. "The latest we're saying is November." 
Recently, workers accidentally hit a gas pipe that spread a gas leak across campus. Todd said a contractor using an excavator hit the pipe. 
"It is always stressful when something like that is going on," Todd said. "Immediately 911 was called."
According to official reports, the gas leak occurred at 11 a.m. and evacuations were required.
"I feel like for a lot of residents it was a bit annoying because a lot of the time they are either in their rooms chilling or having lunch and having that gas leak interrupt that time where they could mentally prepare for the rest of the day was really a hindrance to them," resident assistant Riley Schwalm said.
According to Todd, the evacuations were enforced to protect students and faculty in the surrounding areas. 
"My fellow RA's were worried about their emotional support animals and trying to evacuate them because a lot of them were in class and had to get their roommates or suitemates to get their ESAs," Schwalm said. 
Todd said the gas pipe was immediately sealed shut after the fire and gas departments arrived.
"I am glad we have a lot of good people here that respond, and respond quickly," Todd said. "Everybody just came in and did their thing."
According to Scwhalm, the situation was a lot of anxiety and mess that could have been avoided.
Todd said these types of situations come with the job, which is why the university has protocols in place.
"Everybody tried to do all the right steps, but the accident happened. Could it have not happened? Sure, I clearly believe they could have gotten in there and dug it by hand, but it's not really practical and it's always this delicate balance," Todd said. 
During move-in, families and students struggled finding easy access to their residence halls because of the construction, according to officials. 
"I think it was very poorly timed, I am not sure when it started, but I feel like it should have been done in the off-season — or completed — when there were no students on campus. I feel like it made things much more hectic trying to get students moved back in, especially for families when there was such heavy traffic," said Joella McKinley, UNCA parent. 
According to McKinley, her family struggled finding parking and move-in carts due to the overload in the Founders' parking lot. Officials did not respond to parents' complaints. 
"It's very exasperating to students because it affects their college experience. Beech Hall is their second home and it is annoying to have that comfortance and safety be interrupted because of this construction," Schwalm said.
According to Schwalm, students were redirected around campus after a major sidewalk closed for repairs. Students who missed the announcement were late to class. 
"Not only from my residents specifically, but I know from my fellow RAs that their residents are pissed off, too," Schwalm said. 
There is a campus construction website students can access that Meghan Harte Weyant, vice chancellor of student affairs emailed to students. The website updates regularly with changes made due to the construction. 
Schwalm said residents of The Woods can hear the construction from within their rooms, affecting their sleep and studies. 
"I have meetings with my supervisors in Willow (residence hall in The Woods) and it is 100 percent interrupted by constant noise from the construction, I can barely hear my thoughts," Schwalm said. 
According to Schwalm, Mills residents can also hear the construction. 
"A student ripped off the construction sign because they were so mad, very much a visual representation of how the student body feels," Schwalm said. 
According to Todd, the second phase's plan will consist of redoing a portion of University Heights, stretched from Owen Hall to the traffic circle on W.T Weaver Boulevard.
"I am not exactly sure how far we're gonna go, we might make the decision that we're only going to do one of these sections, we might not even do all of this. The most we will do is what is shown on the campus construction map," Todd said.