Queer conference speakers challenge LGBTQ standards
By Joanna Woodson –Staff Writer –  [email protected] 
Queer studies academics came back to UNC Asheville for the biannual queer conference, "Queering Spaces/Queering Borders."
The conference covers everything from gay-for-pay pornography to changing constructions of religion and sexuality, attendees said.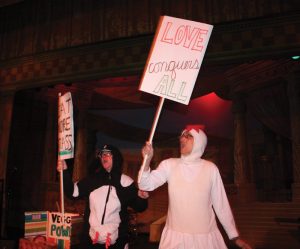 "There was a group of faculty who saw a need for something. Even now there are only four of these types of queer studies conferences in the entire United States, and I think we just saw a gap. We were interested in seeing what we could create with a conference," said Sophie Mills, one of the conference organizers and NEH Distinguished Professor in the classics department.
The conference kicked off on Thursday with the panel "Limits and Boundaries: Queering Diverse Spaces," moderated by Amy Joy Lanou of the health and wellness department at UNCA.
"We just kind of launched it on a leap of faith to see who was out there and we got a pretty good response," said Mills, who was on the original organizing board in 1998. "It is national and international."
Applications came from people in India and the Ukraine wanting to speak.
"It's a very nice mixture of professional academics, graduate students and undergraduates. We like to think of it as a safe and accessible conference. People tend to be very supportive, and it's a lot more friendly than a lot of the conferences we go to sometimes," Mills said.
Some said the range of topics touched on throughout this conference were uncomfortable, but in an intellectual way, attendees said.
John Paul Stadler of Duke University spoke about "Gay-for-pay: Stimulation, Authenticity, Identity."
"This is a conference that combines the friendly with the challenging," Mills said. "It's nice to give people a safe space to hear things they haven't heard before. It's a very important part of academic conferences, academic inquiry."
Violet Livingston and Casey Miles, two graduate students from Michigan State University, shared their experiences through old tweets, videos and rhetoric.
"We get used to not fitting, not belonging, etching out some space for ourselves wherever we are: the closet or the classroom," said Miles, a student doing her graduate work in rhetoric and composition.
The two said they came to talk about how queer people come to know the languages and practices that help them understand their desires, negotiate risk and learn how to recognize themselves and each other.
"We've been doing our work alongside each other, and work is creative in community. There is so much of Casey in my work and there is so much of myself in Casey's work," Livingston said.
Their theories come from eight years of creative and intellectual collaboration, they said.
"Even though we live together, play together and have worked alongside one another, this is the first time we've put our work in conversation in any formal or public way," Miles said.
During the talk, Livingston jumped straight into the details of her life that some may have found uncomfortable, but she said that was the point; addressing the uncomfortable head-on in order to learn to communicate.
After Livingston and Miles spoke, the second panel presented on the passing of Amendment One and what to do now.
All three panelists – the Rev. Jasmine Beach-Ferrara, Donagrant McCluney and Kaley Fry – said they agree it needs to be handled in a positive way, even with the anger.
"My wife and I are one of the many couples impacted by Amendment One in that we are legally married and our marriage is recognized in nine states and D.C., but in the eyes of N.C. and every other state in the South, we are legal strangers to one another," said the Rev. Beach Ferrara, the executive director for the Campaign for Southern Equality.
CSE is a grassroots movement increasingly working across the region. She said it is based on the notion LGBT people are fully whole and fully human.
"The LGBT folks and allies in the South are uniquely positioned to be advocating for federal equality," the Rev. Beach-Ferrara said. "The South has been written off as an 'unwinnable strategic territory.' Our analysis is the inversion of that."
One of the strategies the campaign uses is requesting marriage licenses in order to provoke denial.
McCluney is doing his Ph.D. work at North Carolina A&T State University. He will be doing research in authentic LGBT leadership in the black faith community.
"I have been authorized to do rural organizing throughout the state and I think that is deeply seeded in what we discovered with Amendment One," said McCluney, the state field organizer for Southerners on New Ground. "There is a groundswell of support in rural areas."
He said a new strategy is to turn the attention to the support in the Southern margins.
"My head is Pentecostal holiness, just as I am queer, gay, same-gender loving and I am proud to be both," McCluney said.