By Alex Milstein –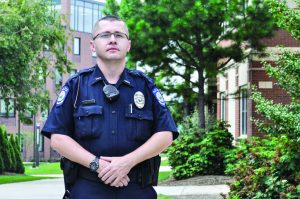 Campus police attempt to control crime on UNC Asheville's campus as students finish their first two weeks of classes.
"I think UNC Asheville has problems similar to other campuses all across the state and country," Eric Boyce, chief of police at UNCA said.
The UNCA crime log shows three instances of drug use on campus, in addition to two instances of larceny and one alcohol charge. The drug violations occurred during the first week of the semester.
Western Carolina University, while exceeding UNCA greatly in alcohol violations, had as many drug violations as UNCA did during their first week. WCU also has about 9,600 students, more than twice the amount of UNCA.
"We have challenges that we are working to address, but I don't think it is an epidemic. I think UNCA has a very low crime rate for our first week of school," Boyce said.
Chief Boyce confirmed drug charges on UNCA's campus pertained to marijuana, and all cases have been closed and cleared; however, the larceny charges, according to Boyce and the UNCA crime log, have been neither closed nor cleared.
"Larceny is a crime of opportunity," Boyce said. "Students, take care of your stuff and lock your stuff up. Make sure that you don't give somebody an opportunity to acquire a laptop because you left it on the quad when you ran to the Ramsey Library to get a cup of coffee."
Boyce said he wants students to know UNCA campus police made pocket-sized packets to help students stay safe and prepare for emergencies. He said additional information, including 10 safety tips from the International Association of Campus Law Enforcement Administration, is online for public access.
"It's mainly students practicing good crime prevention methods that can help us reduce crime," Boyce said.
 Melanie Fox, director of Residential Education and coordinator of the Citizenship Education Program, deals with student conduct issues.
"It's either marijuana or underage alcohol that are the two predominant, and they tend to fluctuate as to which is the most prevalent," Fox said.
Fox said, if caught for drug or alcohol violations, students will meet with their community director to determine responsibility. If responsible, students are required to attend an hour-long drug and alcohol education class, as well as a few hours of community service.
"Some people say, 'It's not a big deal. I can do this once a semester and its fine,' but for some people, it becomes a habitual thing that can really have an impact."
Fox said the comparison of marijuana charges at UNCA and WCU during the first week did not surprise her.
"I don't know if it would surprise me, but marijuana tends to be a little more common for us than it does for some other colleges in the UNC system. College is a time of experimentation and freedom, and people are going to test boundaries and limits," she said.
Fox said she has advice for those who seek to drink while underage or do drugs on campus: "They just need to be very careful and realize that in most cases, if it's continued behaviors, whether or not they get into legal or conduct problems with us, it tends to affect them in other areas of their life. And I think they just need to be very careful and mindful of the impact that it's having on them and on their friends so that they can assist other people."
Fox said she wants students to know the predominant goal is not to get people in trouble, but to help them figure out how to navigate it so they can be successful.
"I've always figured that some of the biggest crimes are usually marijuana and alcohol, and sometimes breaking into cars, which I guess is a little less common on our campus," Ben Judge, a senior political science student said.
Judge said the recent marijuana charges do not surprise him, and he is glad the charges are not for more serious crimes.
"Although it goes unreported, sexual assault happens a lot of college campuses. I haven't really heard of that happening too much on the UNCA campus, but I know it happens at other colleges," he said.
As for a drug problem, Judge said he does not think one exists at UNCA.
"There is a problem with people overdosing all the time, which is why laws like that are in place, so that people are being safe and following the law. But I wouldn't say there is a drug problem at our school. It's just the law being enforced," he said.