Edible forest to provide students with food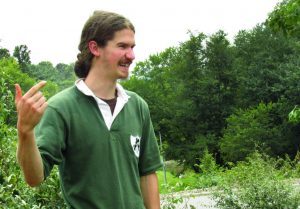 By Cory A. Thompson – [email protected] – Staff Writer
Student gardeners celebrate a successful summer season with the naming of the university forest garden last week.
"We decided to call it the Castanea Forest Garden," said Garrett Ring, a junior environmental management and policy student. "Castanea is the genus of the chestnut tree, which used to be a great producer in this area."
Leaders in the Edible Forest Garden Club said they chose to honor the chestnut tree because of its might and its one-time significance to the region's ecosystem.
"Settlers used to refer to chestnut trees as the 'redwoods of the East' before they were killed by the chestnut blight," said Macon Foscue, the Edible Forest Garden Club's founder. "Now we have a chestnut tree in the garden."
Foscue, who graduated from UNC Asheville in December, said he's tended the Garden since its inception.
"When I first came to this site in February, it was a patch of grass," Foscue said. "Caring for this garden was my senior project, and after I graduated they hired me to take care of it. It's truly a blessing to do what I'm passionate about."
Located between the Sherill Center and the Sam Millar Management Complex, Foscue said the Castanea Forest Garden provides food year-round.
"About 75 percent of the plants here are edible," Foscue said. "Only a portion of the plants are edible today, as they all have different life cycles. With some of the plants you're eating the leaves, with some you're eating the roots and some you're eating the flowers."
According to Foscue, the technique for harvesting a forest garden varies from the technique used with the traditional annual garden.
"We haven't done much harvesting," Foscue said. "The way a forest garden works is that harvests increase over time. Instead of harvesting an annual garden every year, a forest garden produces more as it becomes more established."
Foscue said he predicts the forest garden will produce a substantial amount of food for students in the future, including a large crop of strawberries. In the meantime, gardeners and critters compete for the harvest.
"We take some of the food when we garden, but mainly this is food for the wildlife," Foscue said. "The garden is a great habitat for birds, and I've seen rabbits and a groundhog.  We're feeding them right now."
For students looking to forage, Breathun Bharathae-Lane, Edible Forest Garden Club vice president, said he envisions more opportunities in the upcoming year. According to Bharathae-Lane, the club set a number of goals.
"We have got to work on one thing at a time," said Bharathae-Lane, a music technology student. "Right now we're working on the Castanea Garden, but I would love to see pocket gardens all over campus. I would also really enjoy having trees. Fruit trees and nut trees, primarily."
Bharathae-Lane said he loves plants, but he loves food more.
"A lot of the flora scenery on campus doesn't have any particular use besides aesthetic appeal," Bharathae-Lane said. "Imagine if all those plants grew fruit. It'd be incredible."
Bharathae-Lane said students don't have to wait for the Edible Forest Garden Club to saturate campus with edible vegetation. There are plenty of delicious plants hiding between the academic halls right now.
"Personally, I'm really looking forward to the ripening of the blueberries between Lipinsky and the library. They might just be my favorite plant on campus," he said.