by Jonathan Dermid – Staff Writer – [email protected]
The Jomeokee Music and Arts Festival will celebrate its inaugural year in the mountains of Pinnacle from Sept 14-16. The festival offers a wide variety of music, from bluegrass and folk on one stage, to funk and jam-oriented music on another, as well as activities such as yoga and meditation.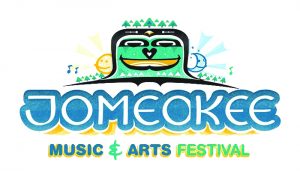 "You've got everything from bluegrass to reggae and everything in between, so it'll be a really diverse lineup," says Ryan Thompson, curator of the Head Jamz stage and one of the festival organizers. 
Headlined and curated by the legendary bluegrass artist Del McCoury, the Mountain Roots stage will serve as the venue for folk and bluegrass throughout the weekend.
Artists such as the Yonder Mountain String Band and Keller Williams are set to perform. The Head Jamz Stage will present a more funk-oriented lineup, with acts like Stephen Marley and Jimmy Herring of Widespread Panic.
"On stage, you're going to see many different generations of musicians from different genres all playing together, and from a crowd standpoint, I think you'll see the same thing, with different generations all gathering at the same festival," Thompson said.
Each stage offers a penultimate jam from two supergroups at the end of the weekend, with the Bluegrass All-Stars on the Mountain Roots stage and the Everyone Orchestra on the Head Jamz stage. The Bluegrass All-Stars consists of members of the Del McCoury Band, the Yonder Mouantain String Band and the String Cheese Incident.  The Everyone Orchestra features members of moe., Widespread Panic and the Trey Anastasio Band.
"The college demographic is certainly an important aspect of the festival as well. With several colleges around this area, we thought it would be a good opportunity to take advantage of that. We hope to present them with a unique opportunity to see a collection of artists that the average college student may not be able to see all together, especially in such a unique environment," Thompson said.
For fans of the genre, this promises to be a "once in a lifetime experience," Thompson said, stressing the significance of the diverse lineup

"The festival itself seems awesome. I love jam bands. They create such a relaxed atmosphere, where it's just as much about the people as it is about the music, and the area looks really beautiful too. It's really the price tag that keeps me out. As a starving college student, anything over 20 to 50 bucks is generally a no-go for me," said Brittany Watkins, a 20-year-old student from Lenoir.
Festivals on the weekends during the school year seem to be no problem for UNC Asheville students, regardless of genre. Larry Garrett, a 23-year-old computer science student from Asheville, said, "The festival looks like it would be really interesting if I was more into that type of music. I listen to more electronic music, but I would love to see a festival of that genre in this environment. It seems like it would be a really great way to spend a weekend."
For more information, visit jomeokeefest.com for a full lineup, ticket pricing and further accomodations.