Actor on secret film made at Disney parks
By Max Miller – Staff Writer – [email protected]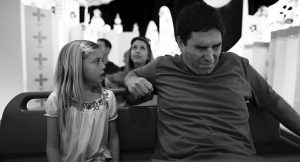 "Escape From Tomorrow," an independent film shot in secret at Disney theme parks, opened nationwide last Friday. The film stars Roy Abramsohn as the father of a vacationing family who loses his job and, shortly thereafter, his mind at "the happiest place on Earth."
The role serves as the first featured lead for Abramsohn, who appeared in smaller roles on television shows such as "Weeds" and "CSI." However, the role — and the entire film — nearly was stopped in its tracks on the last day of shooting.
"A security guy came up and said, 'Why'd you enter the park twice in seven minutes?'" Abramsohn said. "I said, 'Well, I left the sunscreen outside and I had to put it on the kids, so we went back out to put the sunscreen on and came back in.' Then he asked me if I was a celebrity. I got nervous he may have seen in me a small part on a TV show or something. I was acting badly going, 'Hey, honey, he thinks I'm a celebrity. Why do you think that?' And he said, 'Well there's paparazzi following you around the park.'"
Those "paparazzi" were none other than writer/director Randy Moore and his camera crew, equipped with Canon EOS video cameras, commercial digital film cameras that do not resemble anything a professional film crew might use. Secrecy was key to filming "Escape From Tomorrow" because Moore did not seek permission from the Walt Disney Co. to film at both Disneyland and Disney World, fearing the company would deny them on intellectual property grounds.
Moore had to prepare carefully in order to keep the film's production under wraps. The crew kept scripts on their phones, and Moore scouted locations well in advance.
"He went to both theme parks a total, I think, of about eight or nine trips to the theme parks to plan out where the light would be with the cinematographer," Abramsohn said. "They planned it very meticulously so no time was wasted in the parks."
The covert filming methods could be stressful on cast and crew alike, but Abramsohn says the experience ultimately impacted his acting for the better.
"It was good, in a way, because I think I'm more natural in this than I am in some of the TV things I do because there's a lot of pressure when you do a TV show or a film to get it perfect," Abramsohn said. "Here, you don't have cameras in your face. It was easier to act natural because you kind of had to be more natural."
Challenges did not just come from potential staff interference. After all, families who were actually losing their minds shepherding small children and waiting in neverending lines were also unaware of the production going on around them.
"The stressful things came when you were in crowds. I might have done a good job in a shot, but there's a screaming kid running through. Though, sometimes that made the shot work," Abramsohn said. "But you couldn't tell an extra, 'Hey, move over that way.' They're not an extra — they're a person at the park trying to have a good day. We had to work around that. They can't work around us."
Additional scenes were filmed at a separate location with exterior shots of Walt Disney resorts used to maintain the illusion. Some scenes were even shot before a green screen and inserted over footage from the theme parks. But much of the film was successfully shot in the parks' various rides and the queues preceding them.
"I think it was harder on (Jack Dalton, the professional child actor playing Abramsohn's character's son) because he wanted to ride rides. And he didn't want to ride them five times in a row. He wanted to ride them once and go to the next ride," Abramsohn said. "Sometimes we were just waiting in a line and that was the scene — waiting in a long line. And we'd say, 'Okay, we're going on to the next shot,' and he'd be like, 'Wait a minute, I don't get to ride this ride?'"
But the cast and crew's perseverance appears to have paid off. The Walt Disney Co. has not taken any legal action against the film, and the film debuted at the Sundance Film Festival in January, based largely on the buzz created by its unconventional guerrilla style.
"I was pretty happy to get into Sundance. I mean, it's the dream of every actor to have a film at Sundance," Abramsohn said. "I would be happy to have a small part in one, but here I was the lead in one that screened five times. They even had an extra press industry showing because so many people in the press wanted to see it."
"Escape From Tomorrow" opened on Oct. 11 and screens in the Asheville area at Carolina Cinemas at 1640 Hendersonville Road.