By Max Miller – [email protected] – Staff Writer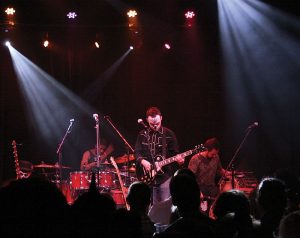 When a horde of skeletons took the stage on Halloween night at the Isis Music Hall, the crowd that packed the building did not flee in terror. Instead, they got their groove on.
Local West African-inspired instrumental group Toubab Krewe played a two-night Día de los Muertos-themed show on Thursday and Friday night, complete with Mexican-style skeletal face paint. The Krewe drew a huge crowd on Halloween, laying down the rhythms that got the roomful of costumed concertgoers dancing.
"I guess at our core we're a party band," said percussionist Luke Quaranta. "We bring the dance party and just get into the spirit of live music. Even our repertoire kind of has a lot of freedom to just come out a different way every night. The Krewe's kind of bigger than the sum of its parts."

Although the group stuck mainly to their usual routine musically, they conceived the visual theme after spending some time in Arizona for the fabled Mexican holiday.
"One year, we were in Tucson for Nov. 1 and it was really amazing walking up and down the street and hanging with people and seeing what everyone did for it down there since the culture's really thick down there," Quaranta said. "It was just something we'd never done, so we thought it would be a nice thing to do for Halloween. It's nice to bring something new that's either visually or intellectually stimulating."
The group had hoped to include musical aspects inspired by Día de los Muertos, but their schedule has been packed in preparation for their upcoming third studio album.
"We kind of have a lot on our plate. We've been in Atlanta the past couple of weeks working on the new album, recording a whole bunch of new music for that. We've been looking forward to that time for a while, so we've just been getting a whole bunch of new ideas going," Quaranta said. "Every time we go in the studio and write new music, we have a great time. The last two weeks have been really cool, working on new ideas and just finding new inspiration, a new direction."
Part of the new inspiration may come from lineup changes the Krewe has undergone over the years since their last studio album TK2 dropped in 2010. While their sound has always been influenced by the music of Guinea, the Ivory Coast and Mali, featuring traditional instruments like the kora, kamel ngoni and djembe, the addition of New Orleans-via-Baton Rouge drummer Terrence Houston last September has added some bayou flavor to the band's musical melting pot.
"I became a professional musician by way of New Orleans," Houston said. "I got the gig with George Porter, Jr.'s band Runnin' Pardners and, along the way, met up with Toubab and here I am today with Toubab, having some fun."
Houston said Toubab Krewe gives him a chance to explore a kind of musical style he didn't have the opportunity to experiment with in the New Orleans scene.
"It's stuff that I'm used to listening to but I never got a chance to express. I'm having fun doing something different that I always kind of wanted to do," Houston said. "I'd be like, 'If I ever play this type of music, I would play it like this.'"
Houston joined the Krewe just in time for one of their most hectic years of touring yet.
"We've really been doing a lot of touring in the States since we started, but this year's been a little different," Quaranta said. "We had the opportunity to start the year in Hawaii and then the West Coast and the mountains and stuff, and then we got an opportunity to go to China and play a world music festival there. We had a great time in China, playing for folks over there. It's definitely been a very heavy touring schedule."
Their schedule shows no sign of lightening up in the near future. The group will perform at the Bear Creek Music Festival in Live Oak, Fla. this November alongside other renowned acts like Bootsy Collins, Lettuce and Ivan Neville's Dumpstaphunk. Then, on Jan. 30, the Krewe will play the New York Guitar Festival, providing a live score for I Was Born, But…, a classic Japanese silent film.
All of this exposure helps the band carry out their underlying mission of charity. The group has maintained a longstanding alliance with Instruments4africa, a charity which helps children in Mali and other parts of West Africa gain access to music and arts education. They have also donated money towards building a music school in Bamako, Mali. According to Quintara, the group wants to foster the diverse musical culture that has grown in West Africa since many nations gained independence in the 1960s.
"A big part of the history and the influence of the band was having the opportunity to study with and meet and learn from artists that came from the independence era where there was a great amount of pride in the culture in those places, especially as they moved toward their independence from the European colonial powers," Quintara said.
Through both influence and charity, Toubab Krewe aim to spread that same pride, both from its roots in Africa and abroad.