By Tina Scruggs – [email protected] – Staff Writer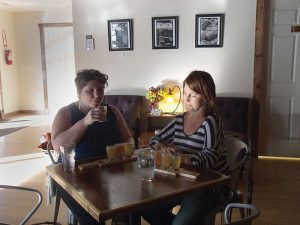 After a small soft opening to work out some small kinks, the grand opening of Urban Orchard Cider Company attracted a full house of people.
Urban Orchard produces cider on the premises, and proudly announced they are one of the few in the United States to do so.
The bar was soaked in natural light from a few enormous windows that open into the parking lot. Tom Miller, owner of Urban Orchard, along with his family, bought the space as a meeting space. They put in the large windows — there were only two small ones originally — and built everything inside, he said.
"It's a big job. We found this space and we actually did all the conversions ourselves. We built the bar, the tables, everything you see," Miller said, gesturing around the room at the bar and tables.
Miller said their family sent his daughter and her husband to cider school in England so they could learn as much as possible. Though years of experience provided knowledge about the craft, they needed to know the production side of producing vast quantities of cider.
"We've made home brews and ciders for years. It was a family tradition way back when. I remember making it with my father, he made it with his father, that type of thing," Miller said. "There's a big difference between home brewing and actually doing it for public consumption. Just simply the fact that you're dealing with such a larger quantity of juice."
There aren't many companies producing cider in the country to begin with; however, there are less that also have a cider bar, and even less that make their cider on site, Miller said.
"From what we can discover there are less than 10 cider bars in the nation. We're the second one that actually brews the cider one the premises. We brew it right here," Miller said enthusiastically.
Jeff Anderson, the marketing and creative director for Urban Orchard, said they visited other cider companies while they were planning their own.
"There's not really a governing organization that says this is a cider bar – this isn't, so we've had to figure that out on our own. And we've been to a lot of the places throughout the U.S. we know people all over. Bushwackers is the only other one that we can find. That's in Portland, Ore.," the young male said.
Anderson said he went to school with Miller's daughter, and answered an ad to join the family in their business.
"It's funny how that happened, I actually went to school with the person that's doing all the fermentation — that's Josie. I went to school with her, and she put an ad out for a bar manager, and I've been in the food and beverage industry for a long time," he said.
Anderson, and the family that owns Urban Orchard, were all born and raised in Asheville.
"Community is very strong for us. So we make sure everyone in West Asheville feels welcome as far as downtown, and anyone, students as well. So it's a good meeting space," Anderson said.
Urban Orchard is a student friendly space as well.
"It is an elegant space, however it's also really warm. We have outlets near all the windows here, we have outlets everywhere you can see we understand that it's important for this age group, you need to have somewhere to plug up your computer and something like that just screams bring your computer, bring a book, do some homework, have a glass of cider, so we want to make sure that no one is excluded," Anderson said.
Kirsten Stalle, an Asheville resident, came to the grand opening to enjoy some cider and ordered a flight, which was a small serving of a few different kinds of ciders.
"I read about it in Mountain Xpress. I tried the ginger wine – interesting – almost tastes a little bit like the effervescence of kombucha. The second one was sweet, but not too sweet, which I appreciated. I lived in England for a while so Blackthorn is a very popular cider there. I love that. So I thought, I don't know, try some cider here," Stalle said.
Anderson said Urban Orchard makes a few different kinds of ciders, but they have three mainstays, including a ginger champagne and dry, crisper, more tradition English cider.
"All of our ciders are high juice content. So we don't really water it down," Anderson said.
Urban Orchard plans to produce kegs and then explore bottling, according to Anderson.
"Just to grow. I mean, we're gonna take it one step at a time. In the beginning we're going to make sure we have enough to cover us as far as product is concerned, and once we sort that out we're going to start looking at distribution. We have a number of people wanting to carry our product already. But we have to make sure that we don't kind of shoot ourselves in the foot by promising a lot of people our product, and then saying we can't provide," Anderson said.
The cider company takes their trade very seriously. Anderson refers to the family as artisans — they do everything from scratch.
"They're a huge step up from home brewers, but they share something in common with the fact that they can be creative and try new things. We're very unique," Anderson said.