By Elizabeth Valenzuela – [email protected] – Staff Writer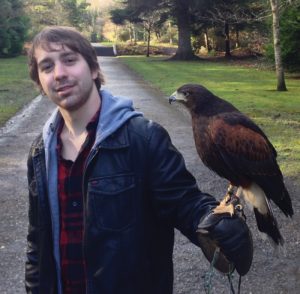 Ted Kendrick, a senior at the UNC Asheville, always harbored a passion to study abroad. Originally planning to spend a few weeks abroad in the summer, he soon realized a few weeks would not be enough time to take advantage of all the things a country offered.
During his time spent working at the study abroad office at UNCA, Kendrick received the opportunity to study abroad during the 2013 spring semester in Galway, Ireland.
"Since I didn't go through a program, I had to find an apartment on my own," said Kendrick.
According to Kendrick, both negatives and positives came from this situation.
"It was weird being by myself, but I had a lot more freedom," he said.
Kendrick's study abroad experience began a little rough. He ended up in an apartment with a mold complication and following moving in, Kendrick's laptop died and he faced adapting to living without it for the whole semester.
Aside from these early misfortunes, Kendrick said he greatly enjoyed his semester abroad in Ireland. He traveled to Switzerland and Amsterdam, rented a car and explored Sweden and got a Europass for three weeks during his spring break.
"The most beautiful place I visited were the cliffs in Donegal, Ireland," Kendrick said.
Kendrick landed second place in the UNCA study abroad program's photo contest for the photograph he took at the Slieve League cliffs.
Kendrick said he studied at the National University of Ireland at Galway during his time abroad.
"I had a cool mix of classes," Kendrick said. From American Southern literature to Dracula and Frankenstein, Kendrick took five literature courses, fulfilling his literature major elective requirements.
"Tolkien, the writer for The Lord of the Rings, used to actually be a professor at NUI Galway," Kendrick said.
According to Kendrick, some people believe Tolkien drew inspiration from the Irish landscape for his iconic series.
All of his courses were taught in English, but Kendrick admitted the Irish accent did present a slight barrier. Due to people's thick accents, Kendrick said he found himself asking people to repeat sentences because he could not understand the first time.
However, because of their distinct accents, people from Ireland can tell what exact part of Ireland other people come from just by the way they speak, Kendrick said.
In addition to traveling, Kendrick said he enjoyed going to Roisin Dubh, a local bar in Galway, during his free time. This particular bar would hold silent discos on certain nights.
"It's cool because you don't know what the person next to you is listening to," said Kendrick.
One of his last nights in Ireland, the disc jockey at Roisin Dubh played a Modest Mouse upon request from Kendrick.
Kendrick laughed saying one of the things he will miss most about Ireland is the Guinness.
"It's just not the same here," Kendrick said.