TEDx inspires, motivates UNC Asheville community
By Valerie McMurray – Staff Writer – [email protected]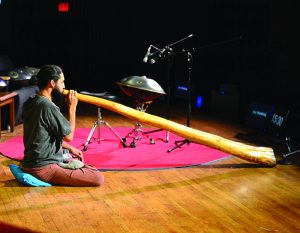 He dons the stage late in the day, for once without his trio of companions. Too nervous to eat all day, Alex McWalters, drummer for folk band River Whyless, falters although performing onstage presents itself frequently as part of his lifestyle.
His speech, "Death of the Rock Star and Why That's Good for Everyone," managed to capture an important notion for the second annual TEDxUNCAsheville conference.
"Define success for yourself," he said.
After one year of planning, this year's official TEDx followed up last year's original conference with twice as many speakers and three times the crowd, pronounced Jack Derbyshire, the beaming student organizer of the event.
In addition to the Asheville-based folk band, his volunteer team of more than 20 students comprising the TEDxUNCAsheville Club hand-selected eight community members, three UNC Asheville professors and two current UNCA students to present talks in renowned TED fashion.
River Whyless wrapped up the event, performing several brand-new songs from their upcoming album.
"We've had a lot of trial and triumphs as a band and they get all mixed in together, and we sort of lose our vision of when we're achieving success and when we're not," said Halli Anderson, vocalist, violinist and bell player. "This is a good moment for Alex to represent us a whole and reflect on what actually is success, looking back on what we've done so far."
However, putting on a TEDx event requires a unique dedication.
Derbyshire earned his organizing chops last year at a five-day conference called TEDActive, which he traveled to Palm Springs, Calif. to participate in after applying with what he calls "Big TED" – a nonprofit organization that has spawned numerous of these types of events, large and small, global and local, all dedicated to sharing truly innovative ideas since 1984.
TED is "technology, entertainment, design," and the talks span from just about every discipline that exists and perhaps a few that don't — yet.
"TED itself walks a fine line between meaningful content and pontification. It is a form of 'edutainment.' I've tried to find the ones that portray a certain kind of depth and tried to avoid triteness," said lead content curator Kyle Cavagnini, a senior chemistry and philosophy student.
Cavagnini served as a featured speaker at last year's event.
Speakers at TEDxUNCAsheville 2014 with the theme "(Re) Think" encouraged viewers to reconsider and reimagine not just their own definition of success, but their attitudes towards microorganisms, intimacy, the influence of traditional business models on the U.S. government, authorship and more.
Like most major TEDx events, organizers, speakers and sponsors such as the Orange Peel, Moog Music Inc. and Asheville Community Yoga went all out to provide interactive intermissions, including a Moog synthesizer demonstration, multimedia presentations from some UNCA new media students and special Q-and-A sessions with selected speakers in the Laurel Forum.
For "Ownership and Authority: Homemade Stories in a Supermarket World," Griffin Payne, spoken-word performer, wowed the audience by tying in some of the works that he said has actually saved his life.
Payne said he struggled with manic depression throughout his life. He told a story of how his work helped not only the youth he teaches, but also the mental hospital patients he met as a patient himself not long ago.
Derbyshire and his team were surprised when just a handful of students showed up to audition last year. They resorted to asking for nominees of professors and community members by inquiring, "Who has a TEDTalk in them? Who can give an incredible talk about a new idea?"
Derbyshire found improvisational musician Peter Levitov busking, like so many others, on the streets of downtown. He knew after a half an hour of mesmerized listening, Levitov had to be involved in his event and eventually convinced the didgeridoo and steel-hand pan player to audition.
Other challenges also awaited Derbyshire's team in putting on the event.
As a rule, TEDx speakers cannot be paid under any circumstances.
"They're here because they want to be," he said.
Another obstacle the team faced came when the winter's biggest snowfall yet settled in just before the Saturday event. The organizers expected mid-February to be the perfect time: students would already be adjusted to their spring semester schedule, but would not yet have midterms to cause a distraction.
Derbyshire is credited with founding the TEDxUNCAsheville Club in 2012 and organizing the two annual events. Upon his graduation this spring with a bachelor's degree in computer science and math, he expects to hand over the reins to Mary Francis Kidd, who will attend the requisite TEDActive conference in Whistler, Canada this year.
Kidd might be the first volunteer to match Derbyshire's enthusiasm. He recounted Kidd approaching him eagerly on the first day of student organization sign-ups.
"The first thing she said was, 'This is the only organization that I want to be in, and I want to help out as much as possible.'" Derbyshire said.