Famed Pakistani singer performs on campus
By Maddie Stagnaro – Staff Writer – [email protected]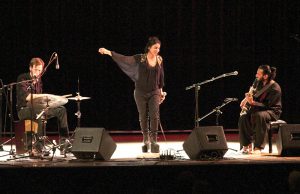 Arooj Aftab promoted positive energy and a collaboration of cultures during her performance of a series of songs that she sung in Urdu last Thursday evening in Lipinsky Auditorium.
"There's some stuff lyrically and also compositionally I've taken from pre-partition South Asia from way back, like kind of roots and ancestrial, classical style of music and words. All of it together — it's kind of like a flow of everybody composing together and everybody performing," said Arooj Aftab, Pakistani soul singer-songwriter and named one of NPR's top 100 composers under 40.
Aftab said the idea is to have a minimalist, ambient and meditative environment. This way, she said, one can float and dream and exchange energy including releasing stressful energy and sending positive energy to others.
Cori Anderson, a cultural events coordinator at UNCA, said Climbing PoeTree suggested Aftab to the cultural events committee. Alixa and Naima of Climbing PoeTree, both social activists and spoken-word poets, performed at UNCA two years ago, Anderson said.
Anderson said the committee voted on Aftab and liked her mix of cultural education, music and human rights activism.
Zach Davis, 20-year-old health and wellness student at UNCA, said he found the overall atmosphere to be very relaxing and soothing.
"I thought it had a good message behind it. It wasn't very straightforward but you had to think about it to get what you wanted out of it which was nice," Davis said. "I really liked the whole vibe of it."
Aftab is also the founder of the project Rebuild Pakistan, an effort to promote togetherness amongst artists with whom she comes in contact.
"It's a mix media space that I curate where I invite musicians and dancers and visual artists, whoever, whatever, that I'm around to collaborate with each other and collaborate with me and create a better sense of oneness and peace and love and exchange cultural energies and getting everyone to hang out in a more intentional way," Aftab said.
Aftab said she named it Rebuild Pakistan to create more solidarity in her community because of the floods that happened in Pakistan in 2010. She said she was alone in New York, surrounded by wonderful people who could not understand and did not know what she was going through. She said it was strange the people she was with did not know what was going on, yet it was so important to her and it really affected her.
Aftab encouraged students to start their own projects, using her's as an example and inspiration. Anderson and Davis suggested students look further into her work and music by checking out her website and listening to the other collaborators.
"We collaborate anyway, but we should collaborate with intention and we should care about what's going on in the lives and the countries of the people we surround ourselves with. So have your own projects like that too with intention," Aftab said.