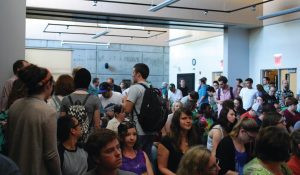 Story and photos by Amanda Cline – [email protected] – Staff Writer

As national tensions surrounding the strife in Ferguson continue to grow, UNC Asheville hosted a discussion panel titled "Black Lives Matter: Forum on Ferguson, Michael Brown, Racism and Structural Violence In America" last Wednesday.
Before the forum began, people piled into UNCA's Highsmith Student Union, forcing many to stand against the wall, shoulder-to-shoulder. As the starting time grew closer, the crowd required more room as eager attendees arrived. Staff turned people away at the door, but allowed them to listen in from the hallway.
"What's happening in America is social suicide," said Keith Bramlett, a lecturer in sociology and anthropology.
He further explained the problem as too many police with the perception they can use unnecessary force on the young and poor. The problem lies in institutionalized discrimination, Bramlett said.
According to Bramlett, a re-examination of how police work in their communities was vital. He offered the idea of police beginning to use a social approach, focusing on knowing a community rather than the outdated law and order approach.
"Why must police maintain suspicion?" Bramlett asked. "Why are there no regulations against war artillery funded and provided by the Pentagon?"
Dwight Mullen, a political science professor, continued the forum and shared his personal experiences from the 1965 Watts Riots in Los Angeles.
The biggest issue, Mullen said, lies in the ways of community policing.
"Why don't police know the neighborhood and people it's patrolling," Mullen said.
He urged listeners to read further on the riots and the fear of rule in Thomas Pynchon's "A Journey Into the Mind of Watts."
To bring the forum back into the current day, Mullen expressed his concerns of exploitations of minorities.
"As a minority I still fear for the lives of my sons, even in little ol' Asheville," Mullen said. "There needs to be a resolution of tension of being black and being American."
Branching off of Mullen's comments, Marcus Harvey, assistant professor in religious studies, urged listeners to frightfully re-examine history.
"We talk nonthreateningly about race. Minorities are the victims of domestic terrorism," Harvey said.
He further explained the subject and discussed what he called the dominant narrative of the mythology of American acceptance.
"We're Americans. We're acceptable," Harvey said. "Why do we need to tell ourselves this?"
Harvey discussed the past and addressed the Civil Rights Act of 1866, the first U.S.  federal act affirming the equality of all citizens under the law.
Harvey concluded the forum urging participants to consider and examine other occurrences similar to those in Ferguson. It should not be another passing phase, he said.
"How will we not allow Ferguson to dwindle away?" Harvey asked.