New mall store excites community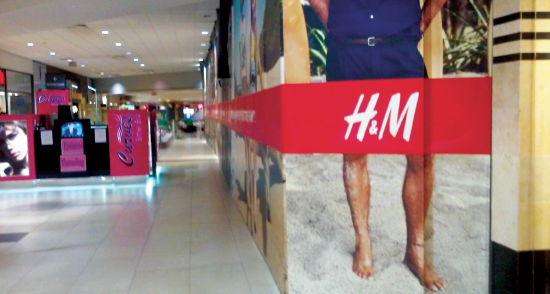 Story by Tina Langford – Staff writer – [email protected]
H&M, one of the world's largest fashion retailers, moves forward with plans to open this fall at the Asheville Mall.
"I have been waiting for this moment forever," said Madeline Hirsch, a habitual shopper at the Asheville Mall. "I love how they offer high-fashion styles for such a low price and for the whole entire family. The only time I used to shop there was when I was on vacation, but now you can guarantee my family and I will be regulars."
The brand's name itself stands for Hennes and Mauritz, which can be translated to "his and hers" in Swedish. They target both genders and have styles for all ages.
The store will include collections for men, ladies and juniors, with additional selections in accessories, lingerie, sports apparel and plus sizes.
Since the opening of their first store on New York's Fifth Avenue 13 years ago, the company grew to approximately 300 locations nationwide.
According to officials, H&M plans to expand greatly throughout the Southeastern market in 2014, while also seeking out the best locations and properties for their customers.
Many see this retail expansion as a positive thing not only for the Asheville Mall, but for the entire community.
Marie Louise Ramsey, store manager of Mori Luggage in the Asheville Mall, views the opening of H&M as a great compliment to the city of Asheville.
"I truly think this is going to revitalize the mall and make it much more vibrant and trendy," Ramsey said.
Ramsey said she grew up in Switzerland and remembers shopping at H&M as a teenager.
"I've seen the company grow to be a world renowned retailer. I'm so glad to hear they chose to come to Asheville — it seems they are always located in cities where the fashion and retail business is thriving, and that says a lot about what is next for Asheville," Ramsey said."When a company provides its customers with great quality, while at the same time ensuring they don't break the consumer's bank. I think that's when you know they truly value their clientele."
Molly Smithson, a senior at the UNC Asheville, views H&M's style of fashion as both classic and trendy at the same time.
"What's great about H&M is that they offer staple pieces of clothing that can really spice up your wardrobe," Smithson said. "You can find affordable clothes that basically mirror what you see in fashion magazines and often times H&M makes it into fashion magazines anyway."
H&M recently ranked the second most ethical company by the Ethisphere Institutes, a consulting firm, which helps companies with appropriate corporate conduct.
"They are one of the only brands I can think of that offer such bold styles at such a low price point," Smithson said.