Women's soccer captain enters final season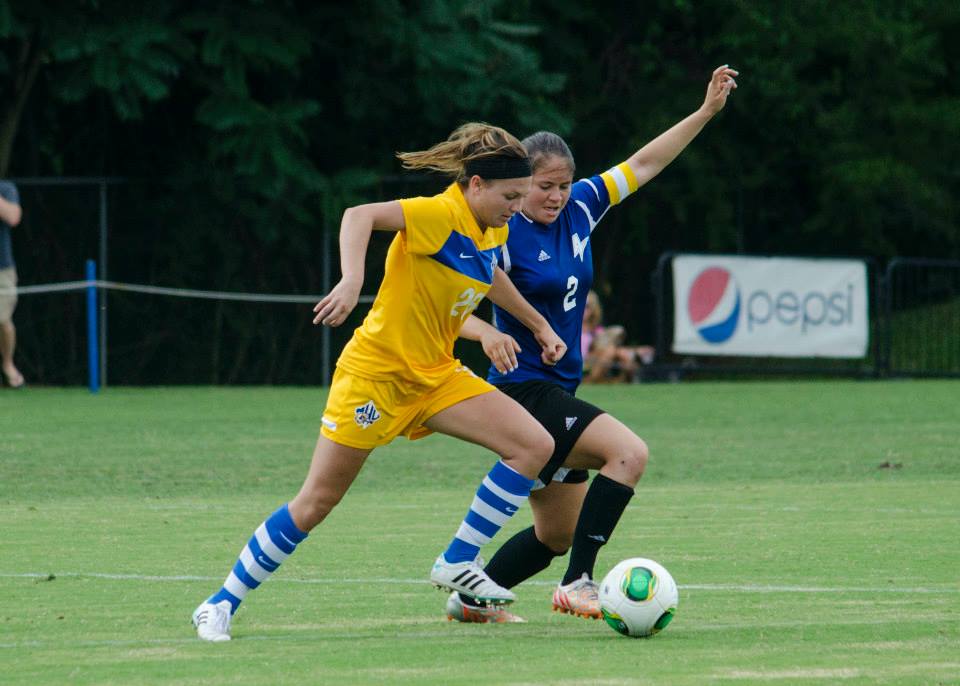 By Max Carter – [email protected] – Staff Writer | Sept. 10, 2014 |

Now in her senior year, Amanda Dailor, UNC Asheville midfielder, heads into her final season with the women's soccer team.
Dailor played soccer since elementary school and when asked about her favorite part of the game, Dailor said she loves it all.
"I guess what I really think is so amazing about soccer is that it's a sport that you use your feet to play. It sounds so silly, but we grew up learning to use our hands to do everything and I chose a sport that does not involve my hands at all," Dailor said. "I also really love the beauty in being able to be so individually creative, yet playing as a team."
Hailing from Castaic, California, Dailor polished her soccer talents at West Ranch High School. While there, she was named Offensive Player of the Year as a freshmen, sophomore and junior. Also on her resume is a pair of All-Conference Team appearances and her team was ranked in the top 20 on a national level.
By the finish of her high school career, Dailor had been contacted by schools throughout the country that were pursuing her for collegiate level soccer. According to Dailor, UNCA held the atmosphere which appealed to her.
"I chose UNCA because the second I stepped onto campus I fell in love. It was such a nice change of pace from my hometown in California and the team was so welcoming I just knew that it was the right choice," Dailor said.
Dailor has been with UNCA since her 2011 freshman year and in the 66 games since her arrival, she has played and started in all of them. Following her freshman season, Michelle Demko, head coach, appointed Dailor team captain.
"She is a natural leader," Demko said. "She leads by example for the younger players, regarding what to do and how to carry yourself."
Demko said Dailor proved to be a rewarding contributor to the program during the past four years.
"She is incredibly positive, even in the most difficult of times. She remains calm under pressure and never waivers," Demko said. "I wish we had her for four more years in our program."
After the women's soccer team started this season 2-0, Dailor gained the title of Attacking Player of the Week by the Big South Conference.
Dailor said she was grateful for receiving the award, but could not have done it without the help of her teammates and coaching staff.
"Even though my name was pulled, it was really the whole team that made it happen. It is a reflection of the team's hard work and dedication to bettering ourselves," Dailor said.
Dailor earned the award with her performance in the first week against Chattanooga and USC Upstate, scoring a goal in each matchup.
Megan Foster, a senior midfielder, said Dailor's continuous drive to become a better player and teammate led to her receiving the award.
 "She's a very driven individual who works as hard as she can no matter what," Foster said.
According to Kaitlyn Eckert, a senior forward, the effort Dailor puts forth encourages others on the team to do the same.
"She is definitely someone who can't be replaced and this program wouldn't be the same without her," Eckert said.
Eckert defined her as a true team player with strong leadership qualities.
"She is the kind of person that you wish you had 10 more of on the team because she is willing to make sacrifices on and off the field for her teammates," Eckert said.
Eckert also added people tend to gravitate to Dailor's upbeat spirit.
"She has such an inviting personality and can bring happiness to the people around her. Amanda brings so much energy everywhere she goes. She is definitely someone who can't be replaced and this program wouldn't be the same without her," Eckert said.
In her final year at UNCA, Dailor prepares for life after college.
"After graduation I plan to take a year to finish my prerequisites for grad school, which I am hoping to apply for fall of 2015.  I hope to pursue a career in either physical or occupational therapy," Dailor said.
Both Dailor and her teammates remain optimistic about what lies ahead in the 2014 season. In the preseason predictions, the Bulldogs were forecasted finishing the season near the bottom of the conference, but currently remain in first place with a solid 3-1 record.
"This is our year and I want to play my best and be the best I can be for this team," Dailor said. "Especially because it is my senior season."