Concert Review: First Aid Kit
By Lariasa Karr  – lkarr@unca.edu – Contributor| Oct. 14, 2014 |
Three years ago, First Aid Kit came to the Orange Peel opening for Lykke Li and nearly out-staged the electronic indie star with their stripped-down, haunting folk.
Fresh off the release of their new album Stay Gold, Swedish songstresses Johanna and Klara Soderberg spun their web of magic over the Orange Peel's treaded floors.
"It's our third time back. We love Asheville," Johanna Soderberg said. "It's calm and bohemian. I could totally see myself living there and growing old."
All-American singer-songwriter Samantha Crain opened for the duo. With a voice like a lipstick-stained cigarette, Crain's quirky, light-hearted folk rock warmed up the audiences' ears and souls and had everyone's anticipation soaring forth in golden waves.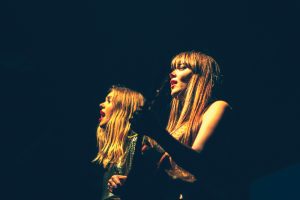 Once they got on stage, the sisters didn't wait. Throwing themselves into the gorgeous track "The Lion's Roar" from their sophomore album of the same name, Johanna and Klara exploded the night into a pleasant reunion.
The sisters' inherent, deep-seeded love of Americana music and culture surprises, considering they hail from a Northern European country not exactly characterized by its connection with rural America.
"We didn't grow up listening to American music at all on the radio and our parents didn't listen to it," Johanna said.  "It was very fresh and new to us. Bright Eyes was the first band we got into because Klara had a crush on a guy who introduced her to them, alongside other American musicians. Then, we started listening to old country singers, like the Carter Family and Phil Monroe."
The theme of wandering extends itself through the sisters' music and the songs off their latest album reflected this with intensity. Chugging along at the speed of a train, Stay Gold does not move at a feverish pace, but at a steady one. This sense of movement manifests in First Aid Kit's newfound incorporation of strings, which marks a strong contrast from their primary reliance on acoustics.
Cordial and elegant, the sisters wove gentle jokes, primarily about cheese, in between beautiful maladies addressing love, loss and melancholia. Seeming not like inhabitants of the 21st century, but like troubadours from centuries ago, the elegant Soderberg sisters left everyone with their golden presences as they continued on their constant journey, perhaps to make a sojourn in Asheville yet again.