By Ashika Raval – [email protected] – Sports Editor | Nov. 19, 2014 |
Finishing off last season as the leading scorer for UNC Asheville's women's basketball team, Shonese Jones plans to spend her senior season with similar success, while continuing to keep her feet on the ground.
Jones started playing basketball around the age of four, and says she spent a lot of time just having fun and shooting granny shots.
"I played on my church league when I was six, and when I started seventh grade everyone was like, 'Yeah you know Shonese is gonna make the team,' and things like that," Jones said. "I like to stay humble so I just thought, 'We'll see what happens,' but then tryouts came and I killed it. It was exciting for me because it was my first time playing competitive ball."
After middle school, Jones immediately made the varsity basketball team at Brevard High. She finished her high school career with a total of 2,112 points – making her Brevard's all-time leader in career points for both boys and girls.
"I just love the game. I like playing. I like scoring and I like putting the ball in the basket. People knew how good I was and it boosted me up to the point where I thought, 'I need to put the team on my back and win for us'," Jones said. "It's about the team. One player can't win the game, they can make a difference in the game, but they can't win it."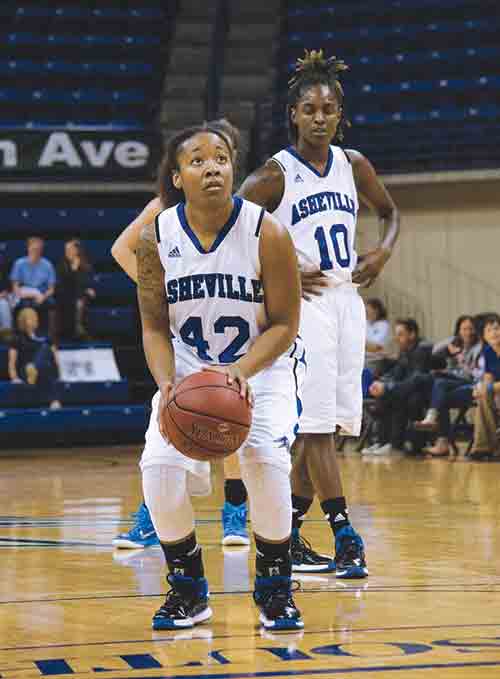 During Jones' last years of high school, multiple universities tried to recruit her for their team, but when she tore her ACL many schools began to drop their offers.
"I chose UNCA because at the time Coach Blose stayed consistent with me. I was losing a lot of offers, but UNCA was one of the schools that stayed with me.  I mean it was kind of crazy, I thought, 'it's like you have a good player but when they get injured you just drop 'em like that'," Jones said. "I stuck with UNCA because they wanted to get to know me, not just playing basketball but on a personal level, too. They knew what they were going to get out of me."
Jones made UNCA's decision worthwhile finishing her freshman year with a 15.6 scoring average — earning the title of Big South Freshman of the Week multiple times.
"Throughout the years you win multiple awards and stuff, and yeah I did want them, but if I can put an impression on my school that will last forever, then that's fine with me," Jones said.
Entering her senior year, Jones says she's glad she can look back and know she reached her ultimate goal of making a lasting impact on the team.
"Shonese has had an impact on the program since she stepped foot on the campus three and a half years ago," said Brenda Kirkpatrick, head coach of women's team. "I mean there's a lot to be said about scoring and all the accolades. But what you want at the end of the day is to be a great teammate and for your teammates to say they love you. Obviously she can put the ball in the basket and that's what we rely on her to do."
Not feeling any pressure at this point, Jones says she knows what she needs to do and what's expected from her. She plans to stay consistent with scoring and skills she's good at, but also making improvements where she can, like on her defensive stance.
"Shonese has grown as a player in several ways. Not only is she more defensive orientated, but she's become a better leader," said Brittany Gwyn, senior guard. "Shonese would do what she had to do, and not really have much to say. Over these years she's increased her communication, and her drive to want to get better every day."
Playing with Jones for over three years, Gwyn says they have grown together both on and off the court.
"This has been one of the best squads I've been on. Since we have all our players back this year our chemistry is automatically there," Jones said. "Now that they know we are a veteran team, we have to prove something and do something. We are just too good of a team to not show up and back up what we're saying."
Jones says without a familial team vibe, success can't happen. It isn't about having just one good player – every player has a role to fill.
"We know that it's not an individual game and coach always tells us, 'you're not playing for yourself.' That's selfish, we have to be selfless and play for the team," Jones said. "Usually on the stats you see one or two players who are always scoring, but we want our names spread out across the stats sheet. We have a deep bench and we need to show it."