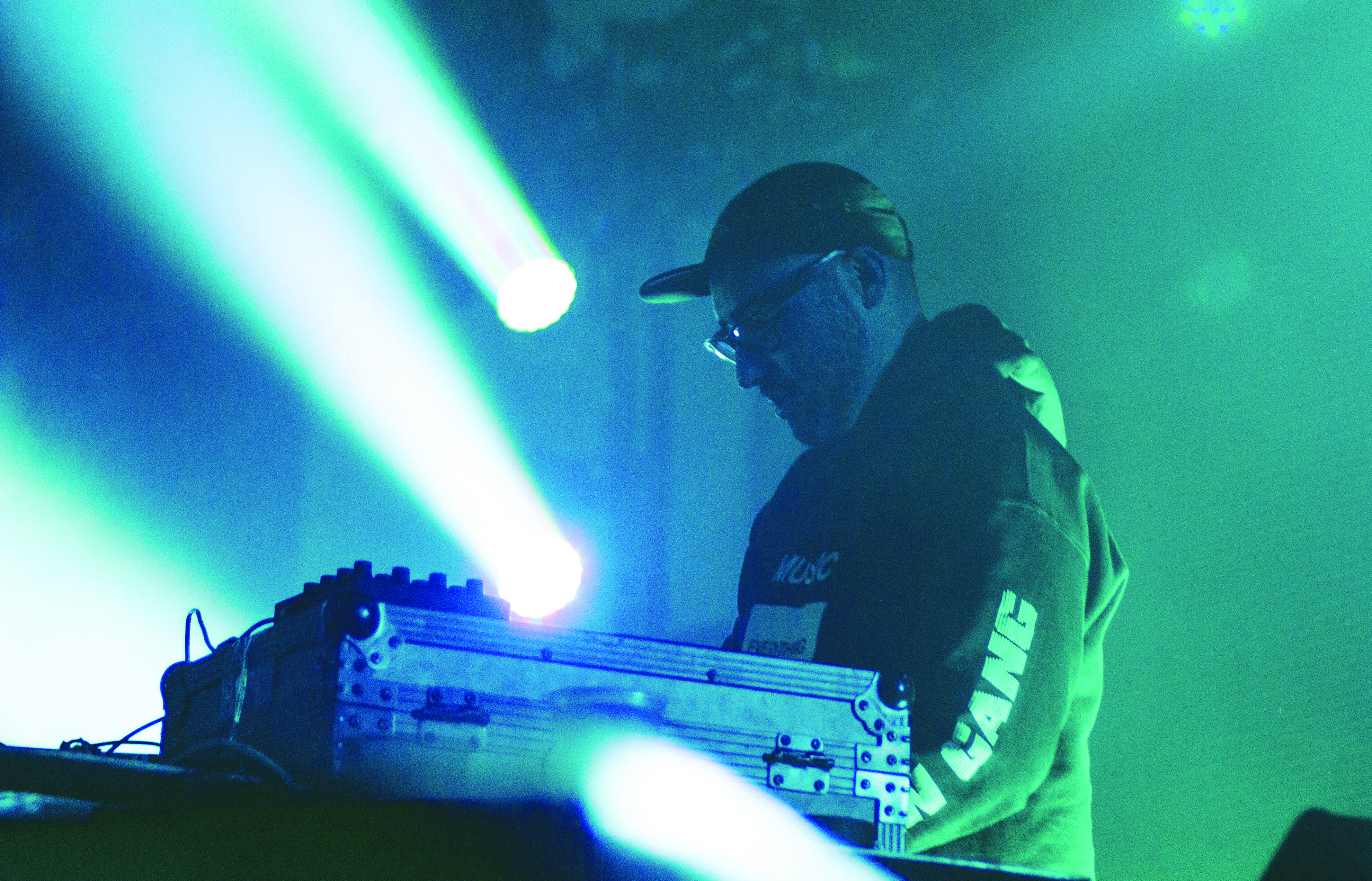 Photo by Makeda Sandford- Staff Photographer
By June Bunch – [email protected] – Staff Writer | Feb. 11, 2015 |
Paper Diamond threw a bass-dropping, vibrant electronic music and light show at the Orange Peel on Jan. 29.
Clusters of teenagers with Sharpie-marked hands shoved to the front to hear openers Torro Torro. Two bouncing disc jockeys, Yo Ev and Mikey Digits, took the stage. 
Torro Torro condensed the crowd, wearing metallic shorts and swinging glow sticks around their sound booth. The two DJs threw beats back and forth as the scene gyrated.
"The first time I saw a show like this, last year, the bass was so low that all the cups on tables were jumping and looking like they would fall off. It was intense," said Sandra Killingsworth, a local fan originally from Miami.
The bass stayed low, vibrating the floor. Once the crowd was riled up, Nadastrom stepped onto the stage, taking over for Torro Torro mid-song without stopping any music.
Nadastrom, the DJ duo of Dave Nada and Matt Nordstrom, partially stripped off their jackets and clapped at wild dancers' lunges and head bangs on stage. Paper Diamond made his way to the stage next.
"The sound equipment is great, and that improves the depth a lot. They go really, really low. The low tones always matched the contrast of high, fast beats," said Noah Tanner, A-B Tech student.
Paper Diamond began his set with one red light beaming at the crowd. Then two lit up, then three. Progressively, they formed a frame around the stage with red rays shooting synchronized flares to the sound.
Strobe lights burst the scene into time-stopped hair flips, mid-air jumps and an invigorated crowd.
"I expected it to be like any other rave, but what distinguished it most was not just the typical stage lights, but the projection screens. It added so much to all of it, and their work with the strobe lights was on point," Tanner said.
Behind the merchandise booth, Charlie Botwin romped around between songs, watching the light show particularly attentively.
"I just do merch as a favor, but I do lighting by trade. Alex, Paper Diamond, is my brother. So I set up and program the whole stage for him, then break it down afterwards," Botwin said.
Botwin said he morphed the stage lights' fixtures until they fit according to the show's intricate demands.
"We have an A rig, a B rig and C rig. So the way that it's built, with all the video cameras in the truss, the whole thing varies in length. I can adjust the rig to any size stage in any venue," Botwin said.
He said he likes the Orange Peel stage because touring artists are able to use their full A rigs. Botwin said he worked about 16 hours each day setting up the stage.
"Time goes really really fast, so I'm never watching the clock," Botwin said, looking up at the projection screen.
Several older fans spread out in the back to watch the lights. They nursed their plastic cups while a swarm of teenage tie-dyed kids played tag, weaving through hula hoopers swinging lit-up LED rainbows around their hips.
"The audience was super lively. That's one thing that's to be expected from an Asheville show," Killingsworth said.
As tribal face-painted spectators thumped to the beat, a fan's chief headdress loomed in the crowd, casting shadows in the stage light. He jived with his eyes locked on Paper Diamond's projection screen, hypnotized.
"People get really into the electronic music scene. It grabs you and takes you with it," Tanner said.
Balloons bounced between jumping hands while the music intensified through projection changes and light bursts. Almost every dancer on the floor shone with a flickering sweaty glow.
"You get a special connection going at shows like this," Killingsworth said.
At the end, the crowd fizzled out, leaving their stepped-on cups and half-dimmed glow sticks.
"It left me with good exercise and a ring in my ears," Killingsworth said.