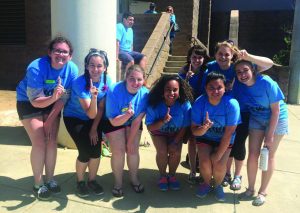 By Amber Abunassar – [email protected] – Staff Writer | April 8, 2015 |
She's the First, a UNC Asheville student organization, will host the Cupcake Classic 5K and Carnival at 11:30 a.m. on April 11 at the UNCA Karl Straus Track.
"She's the First is an organization where we bake cupcakes and sell them for $1 and the money that we make goes towards supporting girls' education in developing countries," said Maggie Daum, freshman women, gender and sexuality studies student from Chapel Hill, "so we have a couple of girls that we sponsor and we pay for their education with the money we make."
According to event organizers, the 5K registration is at 11:30 a.m., the race begins at 12:30 p.m. and the carnival starts at 1:15 p.m.
Regular registration is $25 and registration with a T-shirt is $30.
"The purpose of the event is to raise money for our scholars in developing countries," said Marcy Pedzwater, a sophomore mathematics and literature student from Wilmington and the treasurer of the organization, "so what we do is ask people to donate money and they can walk or run the 5K, and all of the money supports our scholars."
She said the carnival will begin after the 5K. There will be local vendors such as The Hop, and other school organizations doing activities such as facepainting.
It will be a fun way to raise money for girls to be the first in their family to go to school and get an education, she said.
Meredith McLain, a freshman political science student from Matthews, said she is hoping to not only have fun at the event, but also educate the community about She's the First's mission.
McLain said she wants the participants to have a hands-on experience to help them realize where their money is going and what they are doing to support girls' education.
"I hope it's fun for the whole community, and that people learn what She's the First is all about and that they understand girls' education in general, not just from She's the First, but that this is an issue in developing countries," McLain said, "and that girls are not sent to school and that this is a problem we need to fix."
McClain said she is hoping to gain some new members from the event.
"I think that it is very important for girls all around the world to have the opportunity to make a better life for themselves and to be empowered through education," Daum said.