A local sweet spot: the story behind the French Broad Chocolate Lounge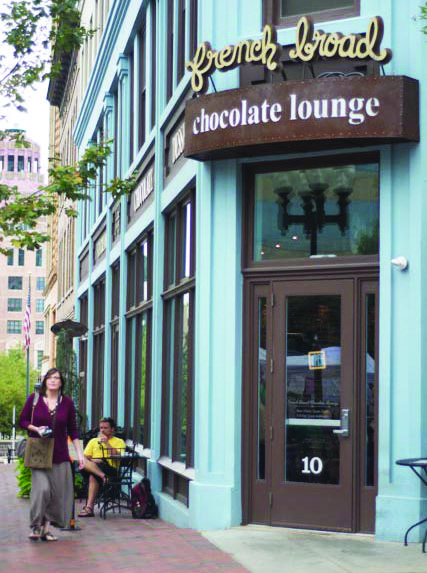 By Jason Perry, Arts and Features Staff Writer
[email protected]
September 2, 2015
On any given night, a long line of addicts wait on the street in downtown Asheville looking for a fix.
A chocolate fix.
"I can always find an answer in chocolate," says Jael Rattigan, Chocolate Lounge co-owner.
Inside, the sounds of light chatter, classic rock and clinking forks hit you as fast as the sweet smell of hot chocolate. Teenagers sit in booths that look out upon the city. College students gravitate toward the old wooden furniture in the back.
Everyone waits for their dose.
The concept of the lounge started with a newly-wedded couple living in the southern Caribbean coast of Costa Rica. In 2003, Dan and Jael Rattigan opened a café and dessert shop called Bread and Chocolate in the village of Puerto Viejo de Limon.
"It was a breakfast, lunch and dessert place," Jael says. "That is definitely where we got the cocoa fever. We were able to not only make truffles and desserts, but we were able to see cocoa farms, see how it grows, and watch farmers make it into a chocolate product."
The Rattigans purchased an old cacao farm to homestead on when their first son Sam was born. But they decided they wanted a new place to raise their son, so they began looking for a new home.
"We wanted a place where an independent business would be supported," Jael says. "We wanted a place where there was a strong local food culture, and we wanted a place where we could raise our kids."
The city of Asheville was constantly suggested to the couple. The Rattigans say they decided to take a trip and visit. After five days in the city, they knew it would be their home.
In Asheville, Dan and Jael started making chocolate in their kitchen and selling it at local farmer's markets. They sold chocolate for a year at the markets and started to grow a loyal fan base, but they knew if they wanted their chocolate to be financially sustainable, they would have to make their product more available for consumers.
Time to take a risk.
"We got a loan from our bank for $60,000 and a little bit more from our family," Jael says. "We were pretty naïve. I thought that was a lot of money, but now that we have been in the business world for a long time that is a ridiculously small amount to spend on opening up a restaurant."
The Rattigans asked for a loan right before the economy was declared to be in recession. A month later, they say, they would have been denied by the banks.
They found a place at 10 South Lexington Avenue in a low traffic area, and the Chocolate Lounge was born.
"We actually started out in our home kitchen, which was challenging, but it was very low budget," Jael says. "Even when we opened up the Chocolate Lounge in 2008, we were making the products at our house and then delivering it every day. It was a lot of extra work and hassle."
Business started small, but it grew quickly with profits, almost doubling by the first year. Eventually, Jael says, the lounge had to expand to the second and third floors. The second floor was used for additional seating, while the third floor was used for a kitchen.
"We would get deliveries for 2,000 pounds of chocolate," Jael says. "It would all have to be carried by hand upstairs. Every time something was made on the third floor it had to be carried three flights of stairs from the kitchen."
The menu grew as well. Flavors range from pure dark to maple and smoked sea salt. The chocolate addict can choose from a Highland Mocha Stout cake to a frozen chocolate mousse to a liquid truffle.
"There is not a specific taste I look for," Jael says. "The perfect taste of chocolate depends on every moment."
With the new expansion, business has flourished. The Rattigans say they stopped buying chocolate as an ingredient and started making it themselves. They built a chocolate factory in Asheville and started to import cacao directly from small farmers in Costa Rica, Nicaragua and Peru.
All other ingredients are bought locally in Asheville. The couple says they believe the business should be embedded within the community.
Marketing Coordinator Sarajane Case says she was attracted to the lounge because it was ethically sound.
"I can market something that is a beautiful product," Case says. "But also they are doing things right so I don't have to gloss over anything. I can just tell the true story. I don't have to fluff anything up or try to make it pretty because it already is."
With growing popularity, the two floors for seating quickly became overcrowded.
"We had fire code capacity issues with our last space, meaning we could only have 49 people on our lower level," Jael says. "We would consistently have at least that many people in line. Not to mention the people sitting down and the people working. We were in violation of the law and getting hassled by the fire marshal."
It was time to expand, Jael says, this time to a different location.
The Chocolate Lounge is now located at 10 South Pack Square. The space is all on one floor, seating is more readily available and ingredients can be transported more easily.
A longtime Chocolate Lounge customer and senior at UNC Asheville, Kevin Paradise, says he likes the new location.
"The new location has a larger space," Paradise says. "It has a warmer kind of feeling to it."
But one thing has not changed in the new location. Addicts still line up outside the lounge, hungry and waiting for their chocolate fix.