Students Conquer Boards, Breath and Self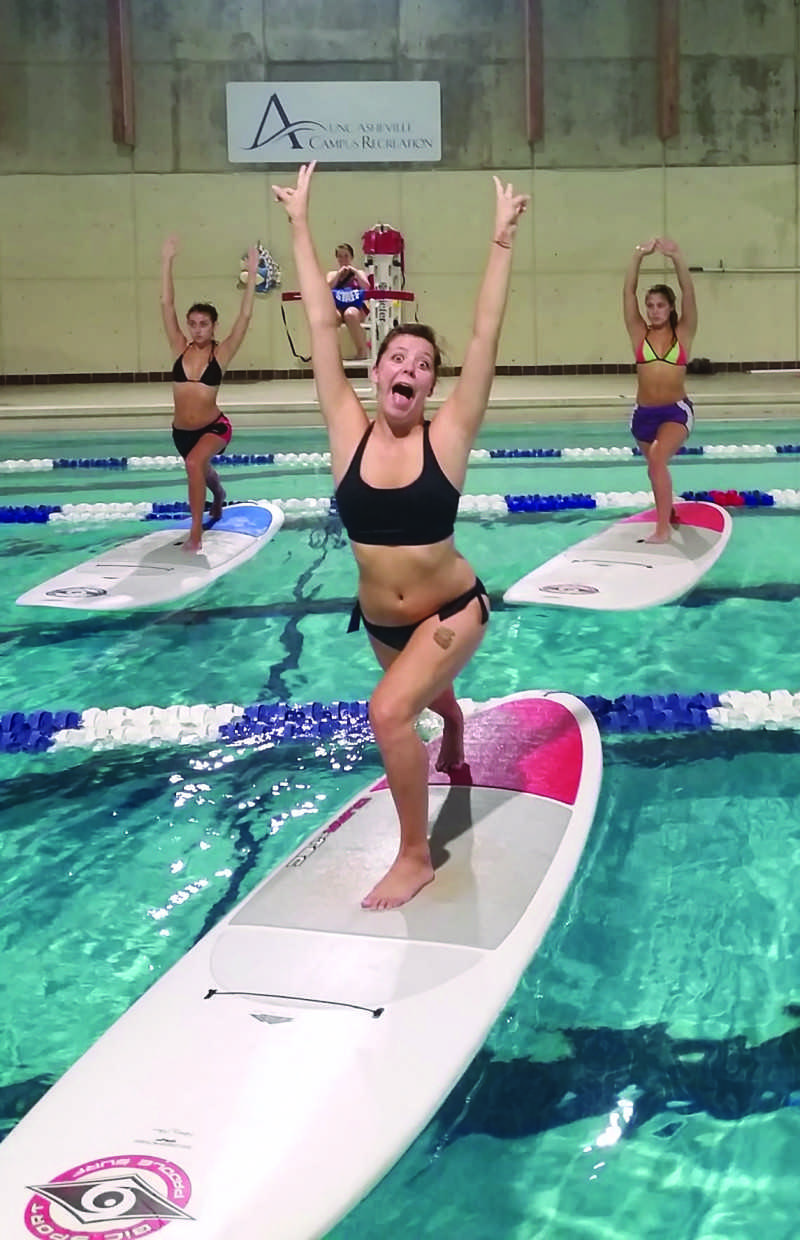 By Ashley Elder, News Staff Writer
[email protected]
9/10/2015
Instructors Page Nevel and Abigail Simpson taught Stand Up Paddleboard Yoga on Tuesday, Aug. 25, challenging students to find balance on the water.
"As someone who has a deep passion for the water, a minute knowledge of yoga and a non-existent sense of balance, Paddleboard Yoga was not only fun and engaging, but butt-busting," said Shelby Putnam, UNC Asheville sophomore.
In the Student Recreation Center, instructors taught from the side of the pool, while participants posed atop paddle boards attached to lane lines so they would not drift away.
"Where else can you attempt a headstand and have virtually no fear of falling?" Putnam said.
She said the class went at a comfortable pace that got everyone acclimated to standing on water, and then moved into a slightly more acrobatic dynamic.
The SUP Yoga class was sponsored by Asheville Adventure Rental company.
Laura Istvan, Informal Recreation Coordinator, said "They were super awesome and let us borrow all eight paddle boards for free for our event."
"If you're looking for something different and challenging, and if you're not afraid of getting wet, I definitely recommend Paddleboard Yoga," Putnam said.
Jack Huber, junior environmental policy student, said SUP Yoga was a great experience.
"It was extremely humbling because sometimes, when you practice yoga, you get to a point where you think some of the poses you learn when you first started have become easier," he said, "but trying SUP yoga creates a whole new challenge for you."
Huber said yoga has transformed his performance on the soccer field as well.
"One of my teachers told me that I would start to score more goals, and sure enough, I scored in back-to-back games last spring," he said.
Huber said it is not so much about the physical benefits, but more the mental and emotional advantages yoga gives him. This helped him in soccer because the game isn't always comfortable or easy, and yoga has taught him stay calm and focused through all the highs and lows.
"In yoga, you learn to get through hard poses that you don't want to do, or poses where your body is begging you to return to child's pose," Huber said.