Asheville wakes up to bitter brew: A look into the Waking Life scandal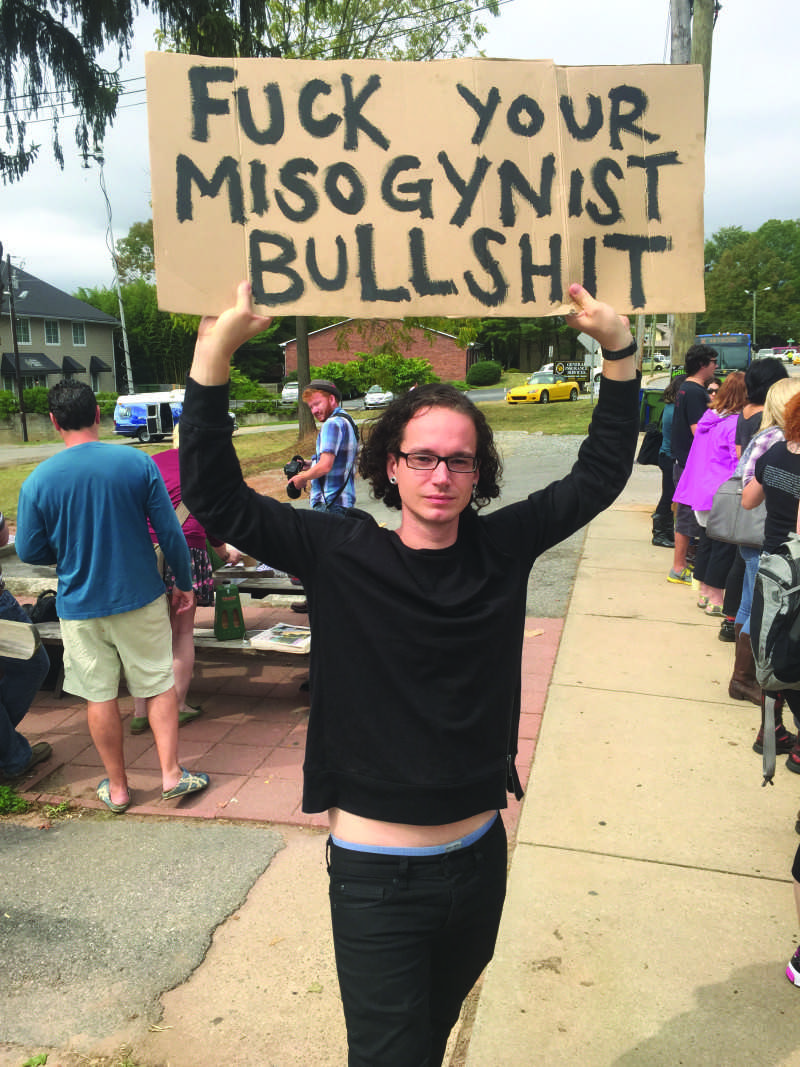 By Phillip Wyatt, News Staff Writer
[email protected]
September 23, 2015
Owners Jared Rutledge and Jacob Owens of Waking Life Espresso in West Asheville are under attack after it was revealed they published podcasts, a blog and a Twitter account expressing misogynist and sexist viewpoints concerning their sexual conquests in Asheville.
The news first broke on AshevilleBlog.com from an anonymous source, including screen caps of the offending Twitter account and blog, as well as recordings of their podcasts.
Under the pseudonym "Holistic Game," both men published graphic descriptions of consensual and nonconsensual sex acts.
"Putting the sweet D in the tender V since 2013" is the title used for their online blog.
Other tweets included a yearly count of sexual encounters with women.
Local businesses began pulling Waking Life's iced coffee from shelves Sunday, less than 24 hours after the blog's creators were revealed.
At French Broad Food Co-Op, four male staff members made a unanimous decision to remove Waking Life products from shelves before board members came to their own conclusion, General Manager Bobby Sullivan said.
"I listened to part of a podcast. They were talking about women within the age group of my four daughters," Sullivan said. "As a man, it's alarming to me there's men out there promoting this type of behavior."
Two of Sullivan's daughters are currently applying for jobs and potentially could have secured employment at Waking Life, he said.
In order to sell the remaining Waking Life iced coffees from their store, Orbit DVD in West Asheville donated $50 to OurVoice for every $4 spent on a bottle, Marc McCloud said, Orbit general manager.
OurVoice provides counseling services to individuals affected by sexual abuse and assault.
After selling out, Orbit approached West Village Market for more bottles to sale. The store raised around $750 for OurVoice.
Other businesses are following suit, donating at least ten percent of their sales from Monday or the entire week to OurVoice, including Battlecat Coffee Bar, Patton Avenue Pet Company, Business 420 Screenprinting and Harvest Records, McCloud said.
"I have a professional relationship with these guys," he said. "I was just shocked they would flush a good business away."
McCloud has a 21-year-old daughter, and he said the social media posts hit close to home for him.
In a statement posted on Facebook, Jay Weatherly and Kim Hunt of High Five Coffee said they are donating all profits from sales this week of a special beverage, the Barista's Choice, to OurVoice.
Some patrons of High Five have agreed to match total sales of the drink.
"We are appalled by Jared and Jacob's dehumanization, violence, and lack of respect for women, even further their general reflections on humanity and definitions of what it means to 'be a man'," the statement from High Five said. "There is no place for this in our, or any community, and only serves to perpetuate a rape culture."
With signs in tow, protesters have lined up outside of Waking Life since news broke Saturday of the blog and podcasts. Most of the participants are members of West Asheville Exchange, a Facebook group created by Mikki Fox.
"This isn't a witch hunt. We don't have our pitchforks out," Fox said. "I was so incensed when I read what they had said that I immediately grabbed some signs and my kids and came up here."
Fox did not anticipate such a huge community outcry, she said.
"I didn't expect all their stuff to be pulled," Fox said. "This has really brought a lot of people together."
Asheville resident Simeon Cogswell, who started protesting outside the coffee shop Monday, is also proud of the community's response to the scandal.
"I think it's been really great the community was quick to react," Cogswell said. "I'm pretty happy everyone came together to deal with a really shitty situation."
Fellow protester Pamela Lalik is also proud of local businesses reaction to Rutledge and Owens' comments.
"I feel like I have justifiable feelings of displeasure about the situation," Lalik said. "All the places around town are dumping their stuff and cutting ties, sending a message that our community is not going to tolerate this."
Sonya DiPalma, assistant professor of mass communication at UNC Asheville, said an online persona must be in sync with one's life, considering anonymity no longer exists within social media.
"You can't post under any alias; it's traceable and it all comes back to you," she said.
Rutledge and Owens believed their content was posted anonymously and unassociated with Waking Life, an assertion that is incongruent, DiPalma said.
"At the end of the day, it has a permanency to it, and this follows them. They will need some really good people to help them clean up their image online and that's going to have to start with them from the inside out.'
DiPalma believes Rutledge and Owens should remove themselves from the community and take time to reflect on their actions before returning to offer heartfelt aid and support.
"With social media, we are about authenticity and transparency, and people will find you out if you're not," she said.
Both men have issues apologies via online press releases and a letter posted on the door of Waking Life, which closed on Monday.
The owners offered to donate their business profits from the rest of the year to OurVoice, but the organization is not accepting donations from Waking Life.
A Facebook group titled "We Like Our Coffee Like We Like Our Women. Not at Waking Life" is organizing protests outside of Waking Life everyday this week from 7 a.m. until 11 a.m.