Student inventors work to prevent sexual assault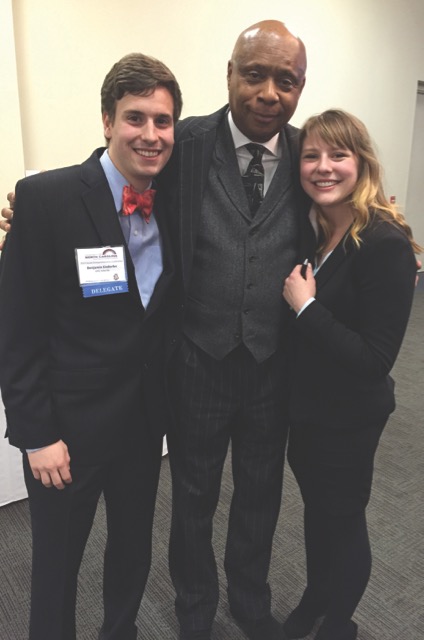 By Phillip Wyatt, News Staff Writer
[email protected]
September 23, 2015
Two students' idea to create a technology capable of preventing sexual assault is finally coming to fruition.
Madison Eddings, cellular and molecular biology student, and Ben Eisdorfer, management student, invented a wearable bracelet called Pro(tech)t. Using cellular-based data, the bracelet alerts campus police, at the touch of a button, in the event someone feels endangered.
"We've both always had a passion about rape culture and sexual assault in general, as well as the issues it causes," Eddings said. "Sexual assault is such a big issue and it has so many pieces to it. It really does come down to the need for a cultural change for it to be lasting. It also needs an immediate fix and solution.."
The UNC Asheville students said they thought of the idea in a social entrepreneurship class.
"We were thinking, 'What does a potential victim need in that moment when things become not okay? What would be the easiest way for someone to alert someone else?'" Eddings said.
After winning UNC's 2015 Social Entrepreneurship Conference in February, the duo raised around $20,000 to manufacture their product, Eddings said. This amount includes anonymous donations, personal funds and the $3,000 conference prize.
Eisdorfer said a provisional patent was issued for the product, the name is now trademarked and the students obtained Limited Liability Company authorization.
The duo said they chose their favorite company, Eventys, to aid with developing and manufacturing Pro(tech)t.
The company, based in Charlotte, is a full-service product development firm that takes pride in their quality products, according to the Eventys website. With over a decade of experience in its industry, Eventys has worked with companies like Colgate, Clorox, Rubbermaid, Mattel and Coca-Cola.
"It's so frustrating sometimes because it does feel like a slow process. We just want it to be done," Eddings said.
The creators said they hope to begin beta testing at UNCA within six months and manufacturing a first generation wristband within the year.
They hope to sell the bracelet for $75 or lower, Eddings said. The bracelet is cellular-based and requires a $5 to $10 data plan to operate.
Eddings and Eisdorfer said they hope colleges will purchase the wristbands for students. Budgetary restrictions in state schools may prove problematic for distribution, but they believe private universities with more funding can purchase in bulk.
"We want to make it accessible to as many people as possible. We don't want cost to be the reason that somebody can't use it," Eddings said.
A sliding-scale payment option will be available to students.
Bluetooth capabilities are planned for future generations of Pro(tech)t in order to alleviate the data fee, Eisdorfer said.
"Our go-to phrase for this band is it's going to be fashionable, durable and comfortable," he said.
A fail-safe mechanism to prevent false alarms is planned, featuring a switch and hold button. The waterproof band will be less than an inch and a quarter thick, equipped with a specialized clasp so it cannot be ripped off, Eddings said.
Potential investors contacted Eddings and Eisdorfer to make a profit, but the students said they desire a partnership opposed to an investment opportunity.
"We are really protective over what we're doing. Our goal isn't to make money, it's to make a difference," Eddings said. "It has the potential to be very lucrative, and when presenting it, people hear that a lot instead of the impact it can make."
The university's response has been extremely positive, they explained.
"The school has been super supportive in connecting us with people, getting us into the right conversations with the right kind of people," Eddings said.
Philip Gary, temporary project coordinator of university programs, said he realized Eddings and Eisdorfer's potential in executing their idea upon hearing their pitch in the entrepreneurship course he advised.
"One of the things that impressed me immediately was their intensity and focus," Gary said. "Virtually any idea they undertake, you have to expect they will take it to a theological, possible conclusion. That's why they won the contest."
Eisdorfer said Gary provided contacts and offered great advice to steer the students in the right direction.
"Philip Gary has been our number one advisor and cheerleader," Eisdorfer said. "He's been with us from the very beginning and is always the guy we talk to when we have a question."
The team said they hope to turn Pro(tech)t into a full-time career upon graduation.