Church responds to Pope's call for sustainable living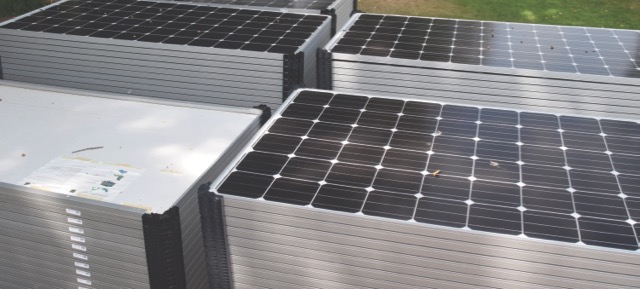 By Becca Andrews, News Staff Writer
[email protected]
In June, Pope Francis raised the topic of climate change to people all over the world with his encyclical document, Laudato Si.
"The Earth, our home, is beginning to look more and more like an immense pile of filth," he said. "In many parts of the planet, the elderly lament that once-beautiful landscapes are now covered with rubbish."
He called for action on issues like pollution, chemical waste and global warming.
One local church took this message to heart. Saint Eugene's Catholic Church on Merrimon is installing solar panels on its roof in an effort to reduce its carbon footprint. Installation of the 146 solar panels began Sept. 8.
MB Haynes Energy Solutions of Asheville will install the panels. The panels will cover about 22 percent of the church's electricity needs.
The project began in March 2014 when a group of parishioners called the Care of Creation Committee approached Father Pat Cahill and the diocese of Charlotte with the idea.
Bill Maloney, a member of Care of Creation and the project coordinator, said they were nervous of being turned down because, as far as they know, St. Eugene's is the first Catholic church in North Carolina to install solar panels.
"When you get into these things you really rely on prayer and the Holy Spirit to come through, because it really isn't our work. It's God's work," Maloney said. "With the diocese and the attorney and the financial officer, I thought those guys might just say no. In fact, the one guy told me they look at a lot of these and turn them down."
However, the diocese has been very supportive and started fundraising for the $142,500 project in March 2015, Maloney said.
Six months and one day later, they reached their goal when the St. Eugene's Women's Guild donated $4,000.
The fundraising process was unique in that anyone, parishioner or not, could donate any amount of money to the project and get a 35 percent tax credit and a 30 percent federal tax deduction.
"We were initially looking at an LLC, Limited Liability Company, that would be a group of maybe 10 parishioners on the project that would rent the roof and they would sell back the electricity and get all the tax credits," Maloney said. "We'd have to have an attorney, it'd be hugely expensive, really difficult and it's not going to be the people's panels, it would be rich guy's panels. So I found that there is a thing called Senate Bill Three of 2007."
North Carolina Senate Bill Three gives a 35 percent tax credit and a federal charitable tax deduction for anyone who donates to a non-profit for renewable energy before Jan. 1, 2016. This, Maloney said, allowed the project to be funded by anyone.
Russell Blevins, project manager from MB Haynes, said the installation should be done by mid-October, with the meter change done by Nov. 1. The system will be net-metered, meaning if the panels produce more electricity than needed by the church, it will sell the extra back to Duke Power.
"It makes economic sense to do it," Blevins said. "The building will be saving a lot on electricity, the parishioners get the advantage of tax credits as part of their donation. Obviously there are environmental benefits, preventing carbon dioxide pollution and stuff like that long term."
Deke Arndt, a climatologist and parishioner, said he is inspired by the local response to the Pope's call to action.
"The more power that we can take from renewable sources like solar panels or less power that we consume from fossil fuels," Arndt said. "We are seeing pretty rapid changes, not just with temperature but changes in the ocean and in the natural ecosystems that make up our planet. It's going to be challenging to keep up with it and equally challenging to try and slow it down. That's why it's a big deal that we did take action."
The Pope's encyclical stresses this point, Arndt said. Our actions in our homes and institutions have worldwide consequences.
"We are evacuating villages in coastal parts of Alaska because the ground has fallen and the wave action is literally eating the shoreline. In the Philippines a lot of our Catholic brothers and sisters have had typhoon after typhoon," Ardnt said, "and those are occurring over waters that have never been this warm, those are pushing storm surges from oceans that have never been so high. They are affecting people that are poor and don't have the resources to get out of the way."
Maloney said he believes that if every church was to do something, it would make a huge difference.
"You got so many churches and schools in the Catholic church," Maloney said. "What if each one of them just pick something and did it? The difference between make for our kids and the next generation, and the whole world. What a difference it would make."
St. Eugene's Care of Creation is hosting other events in honor of Pope Francis' visit to the U.S. on Sept. 22, said Bruce Cahoon, a parishioner and adjunct humanities lecturer at UNCA.
On Thursday, St. Eugene's is hosting an event sponsored by Mountain True, where everyone is invited to watch the Pope address the U.S. They will hold a discussion afterward, Cahoon said. On Sept. 28, they will host Grace Campbell, UNCA humanities lecturer, as a guest speaker.