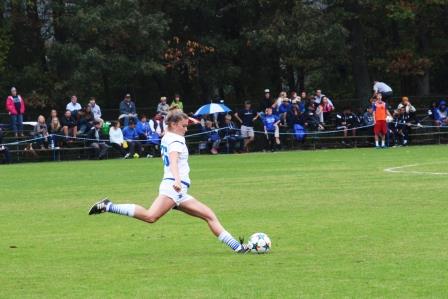 By Chris Jones, Sports staff writer – [email protected]
10/28/2015
In a battle of the Big South women's soccer top-scoring offense in UNC Asheville and one of the conference's most aggressive defensives in Longwood University, the Bulldogs fell to the Lancers in a closely competitive match 1-0 Saturday afternoon at Greenwood Field.
"It was a very close game against a very tough team tonight. We fought hard tonight and it showed that we can play against and are at the level of the top teams in the conference," said Michelle Demko, Bulldog head coach. "Our want and our will to win and succeed is at an all-time high right now for this group."
With the loss, UNCA falls to 11-7-0 overall, and 4-5-0 in Big South Conference play. The Longwood Lancers improve to 9-6-2 overall, and 5-2-2 in BSC play.
"This was a very great game to watch as a coach. Both teams played great and we were able to come out with a hard fought grind in our victory tonight and earn another shutout," said Todd Dyer, Longwood head coach. "This was our last conference game on the road on the season, and we have gone unscathed and undefeated on the road in conference play. That tells a lot about our team and our toughness and determination going to other teams' homes and coming out with the victory each and every time."
The lone goal scored in the game was by Longwood senior Bridget Bergquist, who hit her second game-winner of the season on Saturday night.
"I just got the ball in the right spot and got it in the back of the net. There was a little bit of luck and a little bit of skill that went with it," Bergquist said.
Longwood held Asheville at bay from start to finish. UNCA had four shots and only one of those shots went into the goal. Longwood had seven shots and six of those shots were on goal.
UNCA will finish out the regular season with a road match-up Tuesday against Gardner-Webb.