NC climate activist gets worldwide attention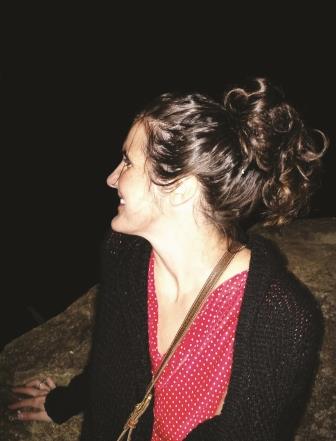 By Lee Elliott, contributor
11/11/15

Sitting at a table in High Five Coffee Bar near downtown Asheville, Anna Jane Joyner sips a cider and looks around the room. To other patrons, she seems to be just a person enjoying the warmth and shelter of the cafe on a rainy day, but to many in the environmental movement, Joyner represents the new wave of rock star green activist.
The daughter of a famous pastor in a conservative Christian household, Joyner grew up in the church, and did not care much for the environment. One of five children, her father, Rick, made his name as an evangelical faith leader who took over televangelist Jim Bakker's ministry in Charlotte after Bakker resigned due to a sex scandal and was later sentenced to jail time for his role in a housing fraud scheme.
Although she was born in the mountains of Wilkesboro, and spent a lot of time outdoors in her youth, Joyner said she never thought about the negative human impact on the planet until she traveled to New Zealand to study abroad while enrolled at UNC-Chapel Hill.
When in New Zealand, she said she lived and worked with people more progressively-minded than any she had previously met in her life, and it influenced her mentality and politics. Prior to her study abroad, Joyner was a dedicated sorority member and registered Republican, but after she made it back stateside, she found a different calling.
"I was a Young Republican in high school, but I had never voted in a presidential election," Joyner said.
When she got to the U.S. in 2004, the presidential election was underway and Joyner's first impulse was to vote a straight Republican ticket. Upon talking to her new friends from New Zealand, they found out her intentions and begged her not to vote for George W. Bush.
"I actually did some research on the issues and found out I was a Democrat," Joyner said.
She was particularly interested in the partisan divide over environmental issues, and it was the deciding factor in her political shift.
She enrolled in an ecology class because it fit with her schedule. As she started to learn the basics of environmental science, she said it piqued her interest. She changed to a double major in mass communication and environmental studies.
Joyner said the Abrahamic religions have scriptural mandates to care for the environment, yet religious groups are often unlikely to support environmental causes due to the politicization of climate change. That became her life's mission, she said, to change the ecological mindset of the Christian community worldwide.
After college, Joyner said she found employment at a Minnesota-based Christian environmental firm called Renewal, where she was able to work remotely and live with her sister in Black Mountain. There, she honed her communication skills while working with Christian schools around the nation.
"It was a huge learning moment. I pretty much didn't know what I was doing when I got there," Joyner said. "I learned so much in my time at Renewal. It was like another four years in school."
Now residing in New York City, Joyner works as a campaign strategist for Purpose, an Ikea-funded nonprofit dedicated to positive societal change. At Purpose, Joyner said she runs their efforts to get Christian students involved with the environmental movement.
Because of her efforts and her famous father, she gained acclaim. Rolling Stone magazine ran a profile twice in the past year, and Showtime documented her relationship with her father in an episode of their climate change miniseries, The Years of Living Dangerously.
When the pope went on his American tour this past year, Joyner, among several others got the chance to speak to the thousands in attendance at the pope's Washington, D.C., stop.
Aside from inspiring a new generation of faith-based environmentalists, Joyner also inspires her family. Her father became a convert to the climate change cause, and Joyner's sister, Aaryn, went to school at Montreat College said she followed became active in the environmental movement as well.
"She has worked incredibly hard to inspire awareness and solution-minded conversation on climate change," Aaryn Joyner said. "She has inspired me more than anyone."
Her youngest brother, Sam, said he recently graduated from the Penland School of Crafts and resides in Asheville, making a living as a potter. He said his sister's willingness to follow her dreams is motivation to follow his.
"It is no surprise that she has been so successful, her heart is really in it," Sam Joyner said.