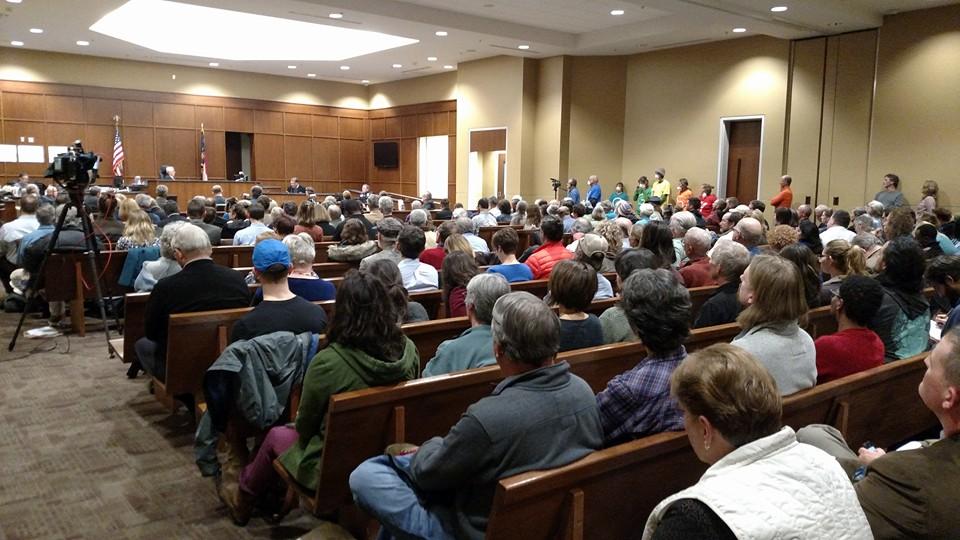 On a cold and rainy night in Asheville, concerned citizens, environmental activists, faith leaders and Duke Energy Progress customers packed Asheville's courthouse last Tuesday to debate Western North Carolina's future energy policy in the face of renovations at Duke Energy Progress' Lake Julian power station.
In addition to the public citizens, environmental activists from Southern Environmental Law Center, The Sierra Club, Mountain True and NC Warn attended the hearing as formal participants in the hearing versus Duke Energy Progress.
Over the course of the evening, 64 complainants came before the North Carolina Utilities Commission to take issue with Duke Energy Progress' plan to decommission Skyland's Lake Julian 324-megawatt coal power plant and replace it with three large, natural gas turbines.
According to Duke Energy Progress, the proposed natural gas turbines, totaling 466 megawatts of energy potential, are aimed at fulfilling the burgeoning Asheville area's future power needs.
Duke Energy forecasts Asheville will need 15 percent more electricity in the next 10 years, possibly more during peak times.
Even as the majority of the protesters admitted getting rid of the coal plant was a step in the right direction toward carbon neutrality and freedom from fossil fuels, most disagreed with installing the natural gas turbines, which would push back toward polluting energy sources.
Bob Hannah, an Asheville resident and father of two, explained to the commission the danger of methane leaks from natural gas facilities, which have been known to leak up to 3 percent of the methane used in production of electricity.
"Asheville is a forward-thinking, progressive city," Hannah said. "We have the ingenuity in this city to produce solar, wind and other renewable forms of energy."
Bill Maloney, a long-time Asheville resident, delivered a speech on the futility of investment in fossil fuels when the price per unit of renewable fuels like solar energy keep falling each year.
"It's inevitable that renewable energy will be used," Maloney said. "Duke is mandated to adopt a certain percentage of renewable energy by 2021, so why not now?"
In an effort to appease those seeking renewable energy solutions, Duke Energy officials proposed installing a 15-megawatt solar farm at the Lake Julian site at a later date, which would only fulfill 1 percent of the renewable energy Duke Energy committed to providing to the North Carolina population by 2020.
"I'm tired of paying Duke to pollute the air we breathe," said Bruce Clark, a Duke Energy Progress customer from Fairview.
The Utility Commission expects to render a verdict on the matter by March 1.