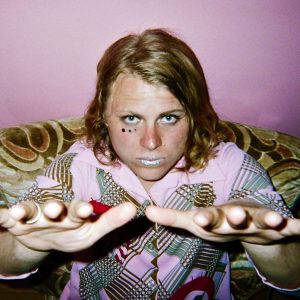 (Photo courtesy of Drag City records.)
Lo-fi garage rock artist Ty Segall released his eighth studio album "Emotional Mugger" via indie label Drag City last month.
He announced the album's release date and detailed the concept behind its creation with a VHS promo shipped out to music publications throughout the nation, according to a press release from Pitch Perfect PR.
In the recording titled "What is 'Emotional Mugging?" Segall defines the concept as a "psychoanalytic subject-to-subject exchange formed as a response to a hyper digital, sexual landscape." The eerie infomercial explains emotional mugging can "fill the holes in our ego and the gaps in society."
For the album's supporting tour, Segall adopted the persona Sloppo and wears an oversized, crying baby mask disguise with his backing band, the Muggers.
The Laguna Beach, California native blends Southern Americana rock with chaotic country throughout his latest solo effort, presenting 11 tracks filled with psychedelic guitar riffs darkened with fuzzy bass reverb.
"Emotional Mugger" kicks off with the appropriately-titled "Squealer," beaming with shrill, twangy guitar leading listeners on an intergalactic acid trip through time and space.
Segall's vocals totter between airy, jagged, deep and menacing throughout the track in a call-and-command fashion.
"And I feel it, and I see it, do you believe it? That's right," he sings. "Looser, come stay awhile, with your feet up, let's make a child, like a bedroom full of stuff."
His creepy, spooky croons simulate the signature sound of The Who's classic "Boris the Spider."
"California Hills" alternates between muffled stoner bass distortion and chaotically rampant electric guitar riffs reminiscent of Molly Hatchet's classic "Flirting with Disaster."
"American nightmare, guilty generation, fingers on the pulse of their parents' alienation, from the history, histories of Western civilization," Segall chants.
His raw and grimy vocals complement the gnarly, frantic sounds of electric guitar and boisterous, stormy drums.
"Emotional Mugger / Leopard Princess" and "Diversion" also highlight Segall's impressive vocal range, alternating between effortless, grimy coos oozing with attitude and brooding, mystic proclamations of love and temptation for a particular queen.
The only qualm with the album is its exceedingly consistent sound. After a few listens, some of the songs tend to blend together, relying on lyrical content to decipher them from one another.
Segall will play at The Orange Peel tomorrow at 9 p.m. with opening acts Axis: Sova and Estrangers. Tickets are $18 in advance and $20 at the door.

02/23/2016