Bulldogs versus Wildcats: a pre-game conversation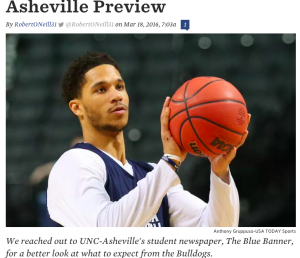 http:/http://www.bigeastcoastbias.com/2016/3/18/11259852/2016-ncaa-tournament-villanova-vs-unc-asheville-preview
Pardon the publication
By Phillip Carwane

Robert O'Neill, the co-managing editor for Big East Coast Bias with SB Nation, contacted The Blue Banner and requested an exchange of information about the UNC Asheville men's basketball team for reciprocal information about the Villanova Wildcats. The teams will face off in the first round of the NCAA tournament Friday in Brooklyn, New York.

Here is a list of O'Neill's questions with answers by Phillip Carwane, Blue Banner senior sports writer:

O'Neill: Dwayne Sutton was a player who really impressed me in the Big South tournament, and he netted the tournament MVP. I noticed he's second in the team in scoring and leads the team in rebounding as a guard, not dissimilar to Villanova's Josh Hart. Is it fair to say Sutton is the Bulldogs' most important player? 

Carwane: Dwayne Sutton is one of UNCA's talented guards. Much like Villanova, the Bulldogs depend on their guards to score as well as rebound, but in that regard, Sutton is not unique. UNCA has five players averaging double-digit point production for the season, three of which are guards; freshman Dwayne Sutton, freshman Dylan Smith and sophomore Kevin Vannatta.

O'Neill: Most people know of Asheville from the 2012 NCAA Tournament when they gave Syracuse a game as a 16-seed. How does this year's team compare to that one? 

Carwane: The NCAA Tournament is all about the matchups and this UNCA team is actually quite similar to Villanova in style of play.

O'Neill: Asheville only has one player over 6'6″, the very sparingly used John Cannon. Villanova has four such players. Do the Bulldogs have any hope of slowing down the Wildcats inside?

Carwane: With the exception of Daniel Ochefu, Villanova's height is used similarly to several of UNCA's opponents. In games against Georgetown, both teams used superior athleticism to defeat the Hoyas, despite a size disadvantage. Ochefu, and his ankle, could be an x-factor for the Wildcats.

O'Neill: Conversely, Asheville's one of the best teams in the country at defending three-pointers. Is that due more to weak competition, or are the guards that tenacious on the perimeter on the defensive side of the ball?

Carwane: UNCA has the classic small team mentality, earn the win on the defensive side of the ball. While other teams put a small lineup in when they need a steal or better ball handling, UNCA has been working on multiple defenses and pressure throughout the season.

O'Neill: We've seen 2/15 upsets in the past. What does Asheville have to do to pull out an upset here? 
Carwane: UNCA is a young team and will need to be ready for the spotlight of the tournament. If the Bulldogs play their game, it will come down to Villanova's ability to make contested shots. The Wildcats field goal percentage could be the most telling stat.

Here is a list of Carwane's questions with responses from O'Neill:

Carwane: What did Seton Hall do to win the Big East tournament final?

O'Neill: The biggest thing Seton Hall was able to do to take down Villanova was get out to a hot start. The Pirates led for the entire first half, taking a 40-29 lead into the break. Their defense was clogging passing lanes and stifling Villanova's ball movement, which is a big key to Nova's success.

Carwane: How is Ochefu's ankle progressing?

O'Neill: Villanova's been very tight-lipped about Daniel Ochefu's ankle, but he told media members at Nova's Selection Sunday watch party that he should be good to go with a couple days of rest. We'll see how effective he is. It's definitely something worth monitoring.

Carwane: How much do past disappointments weigh on the Wildcat seniors and juniors?

O'Neill: I think past disappointments weigh a ton on Villanova. Their senior class is the winningest in school history with 110 victories, but it hasn't translated to postseason success. With this being the last go around for guys like Ochefu and Ryan Arcidiacono, there's definitely some extra pressure and motivation.

Carwane: Do you expect a large fan turnout in Brooklyn?

O'Neill: There should be a huge fan turnout in Brooklyn, especially given how many Villanova fans filled Madison Square Garden for the Big East tournament last week. Villanova fans always travel well for neutral site games.

Carwane: Do you feel Big East play has prepared Villanova for a potential future matchup with Kansas?

O'Neill: I do. I think this season especially helped, because the Big East was so much better, top to bottom, than it has been in the past few years. Xavier was obviously very good, Butler played Villanova tough both times, Seton Hall beat the Wildcats, Providence beat the Wildcats and have two of the best players in the country in Kris Dunn and Ben Bentil, so all of that definitely made Villanova more battle tested. Plus, in nonconference play they played Oklahoma and Virginia.