By Brandon Priester
Contributor
[email protected]
A $5 million donation by Jack and Carolyn Ferguson purchases training equipment for students enrolled in Asheville-Buncombe Technical Community College's allied health programs, said Sue Olesiuk, executive director of college advancement at A-B Tech.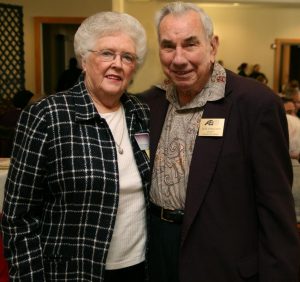 "The money provided simulation devices for student practice," Olesiuk said . We couldn't have that state of the art equipment without those extra dollars from the Fergusons.
Olesiuk said the donation comes in installments.
"Their most recent gift was almost three years ago — a very generous gift of $5 million over five years, a million each year," Olesiuk said.  
Students are excited to attend class in such a state of the art facility, said Vanessa Harris, student and president of A-B Tech Medical Assisting Club.
"Having a clinical area that meets every standard of the medical atmosphere is very vital for my career," Harris said.
Students admire and appreciate the Fergusons' dedication to A-B Tech and their students, Harris said.
"I hope that Jack and Carolyn Ferguson know how much they are admired from so many of us, and not even knowing them personally," Harris said. "With their aid and love for A-B Tech, this new building will truly make learning and teaching more enjoyable and fun for all of us."
Education drives the economy, according to Jack Ferguson, Candler native and local philanthropist.
"Each individual using their brainpower to develop their part of the economy is the only way that we can succeed, not only for our generation but for the generations to come," Ferguson said. "As we improve and learn more, the next group will come along and they'll advance even more."
Philanthropy plays a vital role in community growth, Ferguson said.
"To help people in general is the main thing we all need to do; that's something that's good for everybody," Ferguson said.
Education is the best gift one can give, his wife Carolyn Ferguson said.
"We can help somebody go to school. That's what's important to me. What a person learns cannot be taken from them," she said.
Supporters gathered to witness the dedication of A-B Tech's Allied Health and Workforce Development Center on Dec. 2, Olesiuk said.
"The event recognized their contribution and the dedication of the building to Jack and Carolyn Ferguson," Olesiuk said.
Michele Hathcock, A-B Tech director of student life and development, said it is important to provide community members with opportunities to contribute to beneficial community infrastructure.
"The Fergusons have given scholarship dollars and made charitable contributions totaling about $7 million over time," Olesiuk said.
Olesiuk said the Fergusons give more than just money.
"Jack Ferguson served on A-B Tech's board of directors for over 10 years," Olesiuk said.  
Jack Ferguson assisted in the initial construction of A-B Tech, according to Martha Ball, A-B Tech communications coordinator.
"Jack was working at Lowe's as a salesman when he was approached regarding building construction on Victoria Road in 1959," Ball said.
According to Ball, the Western North Carolina healthcare industry benefits heavily from these new training facilities.
"Not only do healthcare employers benefit, but the patients benefit. Essentially it will affect everyone in the region," Ball said.
According to Olesiuk, students have an opportunity to serve real patients from the community.