By Phillip Wyatt
Fans of Moogfest living in Asheville will have to make the three-and-a-half hour drive to Durham next month for their festival fix instead of taking a leisurely walk downtown.
After taking a brief sabbatical in 2015, Asheville's once-premiere music festival returns May 19-22 in downtown Durham with an eclectic lineup showcasing the past and future sounds of electronic music.
Unlike your traditional music festival utilizing erected stages in fields or parking lots, Moogfest spans several pre existing venues in downtown Durham, including The Pinhook, Motorco Music Hall, Carolina Theatre and The Armory.
The four-day gathering will feature daytime conversations, workshops, installations and film screenings, combining many artistic mediums in a seminar-like setting for fans and performers alike.
Over 250 technologists, musicians and artists will participate in daytime and nighttime events at the gathering, according to Moogfest officials.
The festival serves as a tribute to electronic music pioneer Bob Moog, responsible for the invention of the Moog synthesizer in the early 60s, according to Moogmusic.com.
Must-see Performances:
Grimes
Claire Bouchere, better known by her moniker Grimes, provides a unique style of lo-fi goth pop mixed with her signature wispy, falsetto vocals.
Grimes, known for her barbaric, high-energy performances, is slowly becoming the poster girl for the future of experimental pop music.
Her creative arrangements of both organic and unnatural sounds in such tracks as "Flesh Without Blood" and "Genesis" make Grimes' one-woman performance one of the highest-profile sets at the festival.
(Photo Courtesy of Culture Collide)
Yacht
Veteran Moogfest duo Jona Bechtolt and Claire Evans, electronic synthpop outfit Yacht, played the festival in 2014 in Asheville.
With tracks such as "Psychic City" and "Dystopia (The Earth is on Fire)," music fans will find it nearly impossible not to dance to Yacht's futuristic concept of pop.
Evans, a world-renowned science fiction writer and theologist, will present "The Future in Unmanned" at the festival, a conversation detailing the history of feminism within the digital world.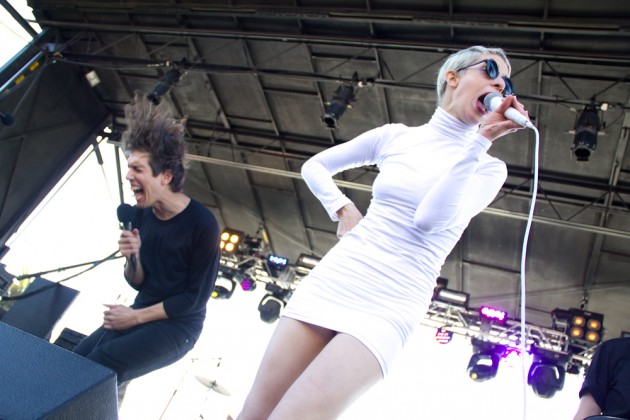 (Photo by Philip Cosores.)
Blood Orange
Chillwave artist Dev Hynes, aka Blood Orange, is sure to please with his blend of R&B vibes and electronic grooves, producing songs such as "Sutphin Boulevard" and "I'm sorry I lied," perfect for any summer soundtrack.
The artist's soulful croons and breezy guitar riffs create a tropical utopia of worldly sounds.
Hynes has written and produced for such artists as Kylie Minogue, Solange Knowles, FKA Twigs, Florence and the Machine and The Chemical Brothers.
Look out for tracks from the London prodigy's latest album "Freetown Sound," expected for a release sometime this spring.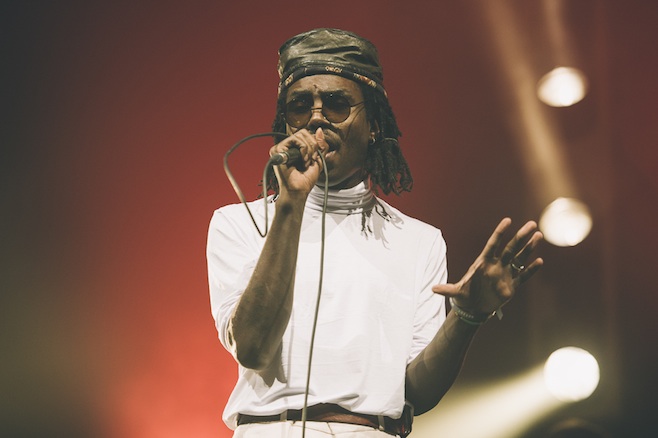 (Photo by Tom Spray)
Health
Los Angeles-based noise rock quartet Health utilizes ghostly vocals and raw synth to create an experimental industrial rock sound.
After gaining notoriety through mixing songs and touring with goth synth artists Crystal Castles, Health proves they can hold their own ground within the industry.
Expect a performance filled with shrill guitar, sinister drumbeats, angsty synth and chaotic bass lines in such tracks as "We Are Water" and "STONEFIST."
(Photo Courtesy of Loma Vista Records)
Odesza          
Since their 2012 debut album "Summer's Gone," grammy-nominated electropop duo Odesza continues to gain popularity in the underground electronic music scene.
The group's dreamy approach to EDM aid in the production of feel-good, synth-heavy tracks, sending listeners into a beat-fueled trance of auditory bliss.
Lovers of house music will enjoy Odesza's contemporary take on the genre, adding fluttering melodies and booming bass to create club-ready dance anthems.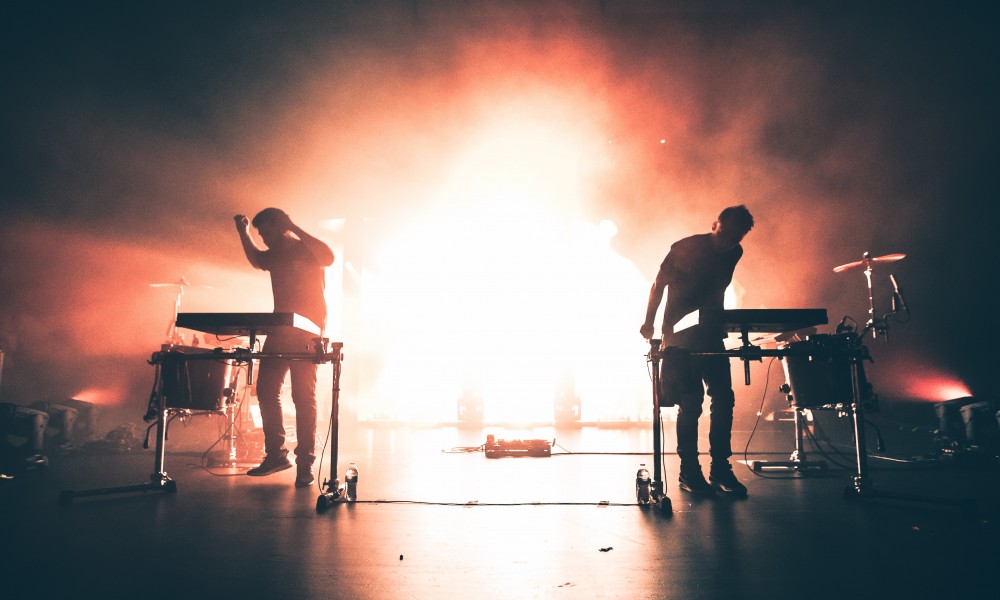 (Photo by James Saulsky)
Other noteworthy performances include a three-day residency by electronic music pioneer Gary Numan, Swedish indie pop outfit Miike Snow, post-rock instrumentalists Explosions in the Sky, Wu-Tang Clan founding member GZA, Actress, DJ Harvey, Grouper, Laurie Anderson, Empress Of, Well$, sun o))), The Orb and Zombi.
Four-day festival passes are still available for $249 with Thursday, Friday or Saturday passes offered for $129 and Sunday passes for $69.
For more information on the festival, as well as volunteer opportunities, visit Moogfest.com.
04/25/16