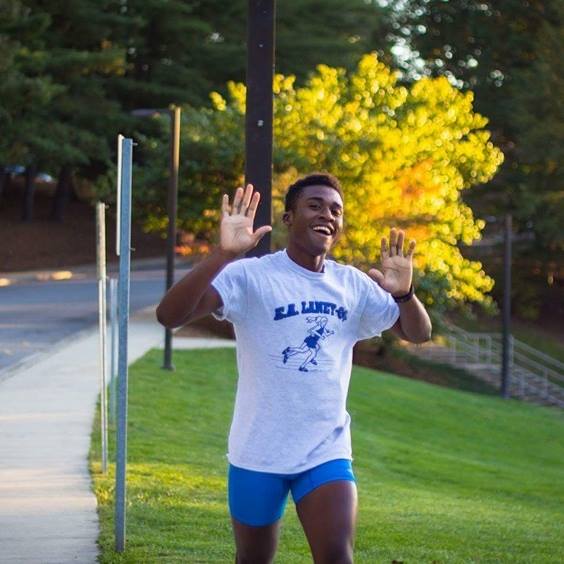 John Mallow
Editor-In-Chief
[email protected]
Running is not only a healthy activity, it's also an effective way to alleviate the stressors of personal relationships, school and many more of life's hurdles, according to student-athletes at UNC Asheville.
"It's crazy how me running went from a thing I didn't like and something I was doing from peer pressure, and it has turned into something I actually like. And now I can't stop running," said Delaydia Frink, a health and wellness student and president of UNCA's XC and Track Club Team.
Frink, who played soccer in high school, said the social gauntlet of adolescence pushed him to get in shape.
"At my old high school I was on the JV team and a lot of the guys gave me shit, well they didn't really give me shit on the team, but a lot of guys brought me down a little bit," Frink said. "I was the only black person on the team and I felt kind of like an outlier. They started talking about how out of shape I was, how much more I needed to run, which gave me peer pressure to start running really."
For Frink, this negativity only served to motivate him more to get healthy again.
"It made me want to exercise and play sports again. I was always an athlete, I just got out of shape," said Frink.
Frink, who has narcolepsy, said he deals with the complications and obstacles it poses on a daily basis, as well as in sports.
"I was like 16 or 15, and my mom would notice I would go to sleep on my meals that I would eat at night," Frink said. "Once our coach told us to get up and go, everybody got up and I was still crisscross in the middle of the field sleeping. They were all looking at me like, 'What is wrong with this dude? He's still asleep.'"
While studying for exams, Frink said he fell unconscious sitting upright at his computer with his head hanging down and was woken up by a fellow student.
"For example, with my sleeping disorder it's an interesting thing, it happened just a few minutes ago in the student orgs room. I was on my laptop, I literally fell asleep in this position, which is a very painful position to fall asleep in, and someone was like, 'Are you asleep?'"
When Frink is dealing with the stressors of social or academic life, he said running allows him get away from the mental static.
"Running gives me an equilibrium; whenever I feel like I'm getting complications from people or people are giving me shit, or I'm just stressed out with people, I will run," Frink said.
Jose Gonzalez, an incoming freshman who plans to study engineering, said having parents who were very active in their younger days contributed to his developing an interest in sports.
"I started playing soccer around first grade and I just kept going since then, Gonzalez said. "This is the first year I haven't played on a competitive team. My parents have always been big runners, triathletes. So every now and then I'd run a race because my mom would nag me enough."
During his final years of high school, Gonzalez, 18, said difficulties with substance abuse resulted in getting kicked out of his parents' home.
"I got kicked out of my house and got sent to a boarding school last year, spring of junior year. I had a really big painkiller, benzo and hallucinogen problem. I was off the shits, man, I was selling a bunch. Life was pretty shitty and my parents thought it would be best for me so they sent me away."
In order to combat the difficulties experienced using drugs, Gonzalez said last May he was entered into a two month, outdoors-oriented treatment program called SUWS of the Carolinas located in Old Fort, North Carolina.
"I actually went to this wilderness therapy program. I just remember waking up one day, hung over in like a whole wilderness get-up not knowing what the hell was going on, and then detoxing in the woods," Gonzalez said. "I don't remember much from that day. I just remember waking up and wondering where the hell I was."
Gonzalez said he finished high school in March at Trails Academy here in Western North Carolina after leaving the SUWS treatment program. Trails is a therapeutic boarding school for at-risk teenagers.
"I hiked every day, that was awesome, like a minimum of 5 miles a day with a big pack on our backs. At Trails is when I started running 'cause I was down in the dumps, man, I didn't know what I was gonna do." Gonzalez said.
Gonzalez said social media connected him with Frink, who had posted a notification about the XC and Track Club Team.
"I moved here and I'm living in a group home now, transitional living, and I'm just trying to find stuff to do," Gonzalez said. "I'm part of some UNCA Facebook page and I saw Delaydia had posted something about cross-country, and I was like, 'Shit, man, it's worth a shot. I'll see what's up.' So I got up with him, and that was like two weeks ago."
Nino Espinoza, treasurer of the XC and Track Club Team and a biology student at UNCA, said soccer was the main sport he participated in until high school, during which he joined the track team, later switching disciplines to cross-country.
"It was more of a curiosity, and I started out doing indoor track, actually," Espinoza said. "It didn't necessarily feel like a thing that I wanted to do, other than just purely to be kept in shape, until the sophomore year of high school where I was curious about cross-country."
It took a cross-country coach at Pine Forest High School, in Fayetteville, North Carolina, Espinoza said, to ignite his dedication for the sport.
"It went from being something I didn't care too much about, to something more of a passion.It started with Coach Brunecz, simply because of how passionate he was about running. He sort of molded this ragtag group of kids, myself included, to get a little more serious," Espinoza said.
"My freshman year here at UNCA I mostly just tried to run on my own time," Espinoza, a sophomore, said. "So in terms of time management and the workload that I was undertaking at the time, it made things a little difficult. Although I still ran, it wasn't as consistent and I sort of fell off the wagon in terms of how fit I was."
Espinoza said during the fall he experienced a renewed enthusiasm for running after running into Frink outside of the dining hall.
"I remember I was actually walking out of Brown Hall and Delaydia and another individual were tabling. It caught my interest, so after asking about more of the details I was like, 'It's been long overdue, it's been more than a year, I believe that I want to get involved and see where this leads me to,'" Espinoza said.