Early voting offers widespread convenience for voters new and old
Sarah Shadburne
Contributor
[email protected]
Everyone remembers their first time. Even if you have not yet, you can imagine the sweaty palms and the fear of doing it wrong. But this year, lay down your worries when you go to the polls to cast your early vote in the 2016 general election.
"The first election I was able to vote in was in 2008, I voted absentee. I was still living in Florida, but I was going to school in Tennessee," said 29-year-old Ashley Moraguez, assistant professor of political science at UNC Asheville.
Moraguez said her passion for politics began when she was an undergraduate student. This passion continues through her teaching.  
"There's a theory in political science that it's not rational to turn out to vote because one vote won't make a difference," Moraguez said. "Regardless of where you are in the country, your vote does matter."  
According to Politico, the number of registered voters in 2016 surpasses any figure of the past, encompassing 200 million people.
"It's incredibly important to vote. If you want to fix the system you need to be part of the system and try to change it from within, and I think exercising your right to vote is the most direct way you can influence government," Moraguez said.
This election defies the political trends of the past, with Donald Trump gaining support from blue-collar workers and Hillary Clinton winning favor with religious voters, according to Moraguez.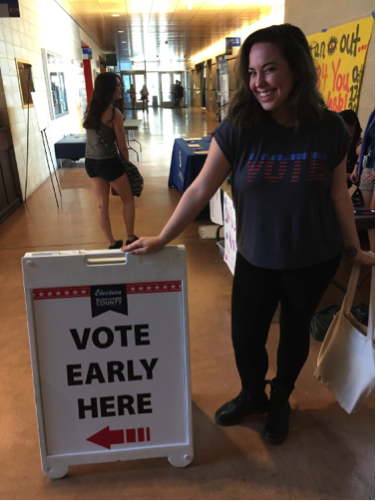 "Even if you don't feel like Trump or Clinton are candidates that represent you, if you go vote the parties, pay attention to who's voting," Moraguez said. "So, if you want the parties to respond to what you want, you should be voting in the primaries."
The 2016 election also represents a change in how Democrats and Republicans relate to each other, or rather, how they do not.
Democrats and Republicans have less common ground now than they did in the past, according to the Pew Research Center. The differences fuel growing animosity between the two.
Tatiana Miller, the chief of staff of the Student Government Association, stresses the importance of voting, if not for yourself, then for the welfare of society.  
"The first election I voted in was a local election here, I think it was last year. I didn't have any time during the day to do it so I had to wake up super early in the morning and get to the polls at, like, 7 o'clock," said 21-year-old Miller.
The estimated voting-age population in the 2012 election reached nearly 241 million people, with only 129.1 million votes cast, according to the Pew Research Center.
"Whether or not you care, you should still vote for the betterment of the people. It's not about you, it's about the entire group," Miller said.
At the beginning of the presidential race, sophomore psychology student Morgan Gallegos said she felt unmotivated by politics, but attending school in Asheville compelled her to be outspoken.
"For being a first time voter, I was a little intimidated by the process, but it was so straightforward. It was so easy," Gallegos said.
"It's really important for our age group to vote. This election affects us more now than ever. Before, it was our parents voting, our grandparents," Gallegos said. "Now we're getting to the age where we are the adults. This is our generation. We are the ones who have to deal with who gets elected. It's our time honestly."