UNCA lifeguard joins swim team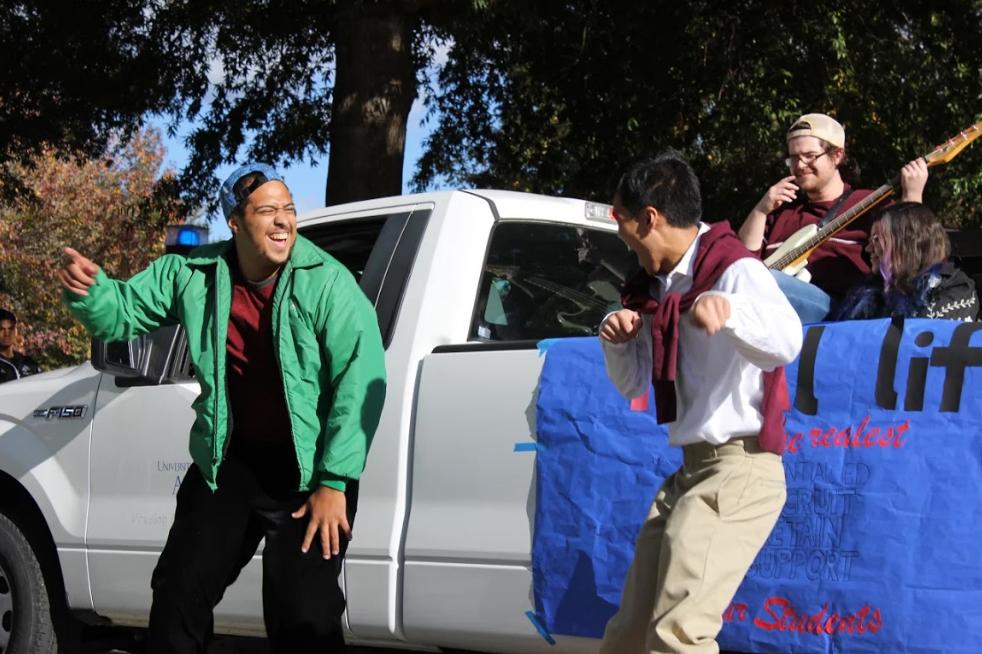 Laura Hoffman
Sports Staff Writer
[email protected]
UNC Asheville's swim team manager and campus lifeguard Austin Huber wears many swim caps around campus. From being a full-time R.A. to being on the clock for the swim team, Huber swims through student life doing what he enjoys.
The junior from Greensboro started off as a regular Campus Recreation lifeguard. Huber would lifeguard for the swim team's practices along with the other lifeguard shifts he picked up.
"With the swim team, for the last year, I guarded some of their swim meets, guarded some of their practices, so coach would say, 'Hey, how's it going,'" Huber said. "We got to know each other, I got to know some of the swimmers."
The 21-year-old health and wellness student never saw himself as being the manager of a sports team on campus. Coach Elizabeth Lykins and the team had to push for Huber to be a part of their aquatic machine.
"Then this year when we got back to school they were like, 'Hey, we're looking for a team manager,' so they asked if — they pushed me into it and I was like, 'OK,'"  Huber said. "I talked to coach about it and we went through a little interview process and then they chose me to be their manager."
Huber said lifeguarding for campus recreation is interesting because there are always different activities going on throughout the week. He does not really like to work certain sessions, like kayak roll sessions because of the unpredictability of it.
"There was a kid, he was doing kayak roll session. Most of the people that go there either know what they are doing or they are learning, they usually have an instructor with them, this kid was just with his dad," said Huber. "He rolled over and he could not get back over so he started tapping on the bottom of the kayak, so I jumped in. Funny enough, when I got to him he actually popped out doing a wet exit."
Huber said he enjoys being a part of the swim team. He said he likes to see all of the different portions of the process come into play. From seeing what goes into practicing and training to being on the pool deck when Asheville wins, the experience is exhilarating.
Essentially, Huber does the dirty work, kind of like a stereotypical intern. If Coach Lykins needs anything or if a swimmer needs something before they jump into the pool, Huber is the man to turn to.
"Swim practice for me could start off pretty simply. For example, I will get water for the cooler or fill up some water bottles if some of the swimmers need it." Huber said. "Sometimes I organize files for coach, otherwise, I will play DJ when there is a speaker out on the pool deck."
Swim meets are exciting for Huber. He said he does not have any specific memories that stand out about the meets or practices he has attended, but the atmosphere created when a meet is being held generates something he cannot find anywhere else.
"Well, I know anytime I go to a meet it is always really cool to be a part of the team feeling. So whenever there is a swimmer who is really fighting to get the first touch on the wall, it is always really cool to watch," Huber said. "The team gets electrified and starts yelling and cheering, all sorts of stuff. Also just watching people high-five and all the different handshakes and such."
Huber said he never had much interest in the position of lifeguarding until he did his first training session at a counselor-in-training summer camp.
"After I did the training, I had the certification so I applied to some jobs and about a year later I was able to start working," Huber said. "I have been lifeguarding for four years now."
Off-campus meets for Huber are rough to get to. Since he has three jobs and school work to complete, traveling has not been in the picture for him yet. He said being an R.A. puts his schedule in a tight grip because of the round-the-clock hours.
If he ever wanted to, or if his schedule allowed him to travel with the team, Huber said they would provide housing and food for him.