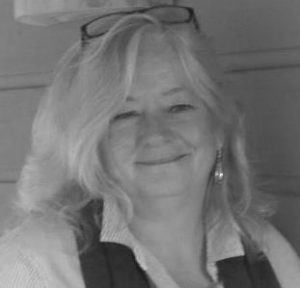 Rachel Van Noordt
Arts and Features Writer
[email protected]
Cynthia Chadwick, a lecturer in UNC Asheville's literature department, knew at a young age she wanted to be a storyteller.
"I tried to be other things," Chadwick said. "But it doesn't work out like that."
As a child, Chadwick was inspired by her father, who was a passionate storyteller. He used to exaggerate to make everything even better in his stories, she said.
While hiking through the woods, Chadwick's father used to invent stories, telling her he saw signs in the trees.
"He told me a big lie about the fact that I had lived a previous life in an earlier century and I believed him," Chadwick said.
Inspired by her father's knack for storytelling, she began telling stories to other children on the playground about brothers and sisters that she did not have. Chadwick said she brought them photos of herself and her cousins to help bring her stories to life.
Chadwick grew up in New Jersey and lived there until she was 22. She then moved south.
In her early 30s, Chadwick said she became a fiction writer. Her first book was titled "Outside of Everything." She said she will never forget crossing the 100-page mark. This book was never published.
"Then when I did my MFA, I was working as a carpenter with a woman who was the first master carpenter in the United States, Lucy Neil," Chadwick said.
Chadwick said they worked together for about five years while she finished her master's degree. At the time, she was writing a set of works called "The Carpenter Stories."
Fifty pages taken from this collection became the first book in Chadwick's series "Cat Rising".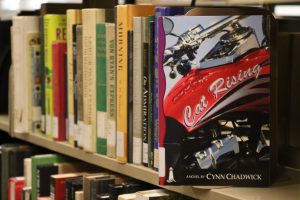 "The Cat Rising series is essentially Southern literature," Chadwick said. "It takes place in the mountains, two best friends, both of them happen to be lesbians, Cat and Lily. My goals during the time of writing that were to portray really strong women who happen to be lesbians but were, as I had been, very much accepted in my community."
This book was followed by Girls With Hammers and Babies, Bikes and Broads. Chadwick said she hopes to also release "Cutting Loose," which would take place 10 years later than the first book.
Chadwick said she recently started her own publishing house. She took all of her books and digital rights and shared them at her leisure.
"I'm like the queen of my own empire," Chadwick said with a chuckle.
One thing Chadwick does not like about writing is that it has become a business for her. She does admit her hopes of creating a New York Times best seller and becoming a "lesbian Nicholas Sparks". Apart from her passion becoming a business, fear is the only thing that could get in the way of her writing.
Chadwick said she always seems to end up writing about things that plague her thoughts. She loves the way writing occupies her mind. Being able to tell a story with meaning is something important to her.
"I mean," Chadwick said, "I'd love to say it was something that was the muse rising, but it's more like a compulsion. I've just always been a storyteller in my head, so even if I wasn't writing these things down, I'd be telling stories."
Chadwick said sometimes in the middle of the night, she wakes up with a story in her mind. She then writes down every detail. She calls this dream-time writing. During that moment, when the sky is still dark and she is alone, she feels closest to God.
Chadwick believes feeling loved, powerful or smart can be experienced through story. To her, the characters she writes are real people. Often times, what her characters were going through, Chadwick experienced too.
Only through practicing and having things to write about can one improve their writing. This cannot be produced through a safe classroom environment, Chadwick said.
"Travel, get lots of jobs and listen to the stories that strangers tell you, because that's where those stories are."
Chadwick said she hopes to write something that will mean something to someone in a moment where they need those words.
Sari-Rose Brown, a former student, recalls a quote above Chadwick's door that reads 'Well behaved women rarely make history'.
"I think she was blunt sometimes," Brown said. "And I think she had kind of a cutting, dry sense of humor sometimes and she pushed us sometimes, but I thought that she was a representation of that quotation that I appreciated."
Lesbian literature has become less popular because it is more accepted in mainstream media, Chadwick said. Though same-sex marriage has been legalized, she knows there are still youth who are ridiculed by churches and kicked out of homes.
Chadwick's classes provide a really open environment, said Allie Snyder, a psychology student.
"There are a couple kids in our class that are also in the community," Snyder said. "It's cool to see them connect."
Chadwick's literature highlights LGBTQ+ lifestyles, but she does not want to be restrained to this genre. This is why she wants to write contemporary women's literature.
"In the meanwhile, I just like to tell stories and that's OK too," Chadwick said.