Larisa Karr               Rachel Bewick
News Editor                  Contributor
[email protected]        [email protected]

On Jan. 27, residents of Asheville gathered downtown to rally against Trump's recent reviving of the North Dakota Pipeline and to support the ongoing struggle for the Standing Rock Sioux to preserve their water.
There were a variety of speakers present, including Mary Crow from the Eastern Band of Cherokee Indians and Joseph Pritchard from the Western North Carolina Presbyterian Council for Peace and Justice.
"We as native peoples have never been the ones that have never gone out and fought against the establishment or stood against the corporations and broke things and did things and burned things and torn up things because we had respect," Crow said. "We had respect and what happened in Standing Rock is showing the world that we still maintain that respect."

Pritchard, who traveled to Standing Rock with a group of veterans who were concerned about what was happening to the people of Standing Rock, stressed how important it was for white people to be aware of this issue.
He said that, as human beings, we are one blood and need to come together.
"Tell all your white friends, do something about this," Pritchard said. "This is justice and justice includes all of us."
The event was organized primarily for this reason, to raise awareness in the white community about the plight of Native Americans and the struggles they have faced and continue to face.
For Lexus Walker and Alex Lowman, two of the organizers of the event, the rally was a step forward in light of a problem they realized with the recent women's march.
"I think in Asheville it's hard cause I know it wasn't the fault of the march itself that there was a lack of diversity because they definitely had diversity in their speakers," Walker said.  "But, just being a black woman in a crowd who couldn't see any other black women was like, 'I don't really feel like I'm supposed to be here as much as I thought I would.'"
For both Walker and Lowman, the problem with the march was the lack of intersectionality not present at the event.
"The environmental impact is a huge issue for me, but our main focus is our focus with intersectionality and to bring to the light the injustices that white folk have put upon people of color since the dawn of time," Lowman said.
The overall tone of the event was one of vigor and enthusiasm and it lasted over an hour, as more people continued to join.
"Water is life" was a primary chant heard throughout the event and shouted in multiple Native American languages. Kelsie Willis, one of the organizers of the event, was eager to share the chant in the Muskogee language, a group of Native Americans, of whom she is a descendant.
Posters throughout the event were variegated and numerous. "Water is life" was a primary one, but there were also others reading "Defend Native Rights" and "Asheville NC stands with Standing Rock Sioux."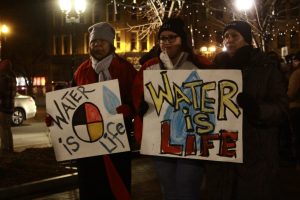 For Lowman, solidarity among the millennial generation against scenarios like the North Dakota Pipeline is inspiring.
"You look at what's popular and we look at the rise in activism of people in our age and it's all coming together, but a lot of the messages of the activist are to keep the momentum going," Lowman said.
On the other side, however, stand millennial individuals in support of the pipeline.
"I think the pipeline should go through, which I know sounds super weird from an environmental studies major," said Nicole McDonald, a UNCA sophomore student from Cary. "But when you look at it, they went through all the legal processes and although it is fossil fuels, the pipeline is the best way to have fossil fuels if you are going to have them."
Less than two months ago, the Army Corps denied the permit for the Pipeline to go through, creating a bit of a respite in the midst of months of strenuous protests. In Donald Trump's first week as president, however, he issued a directive to bring back both the North Dakota Pipeline and the Keystone XL Pipeline, which would span from Alberta, Canada to Nebraska. The support of the pipelines is not surprising in light of his "America First Energy Plan," stating his intent to "embrace the shale oil and gas revolution."
Trump's financial records show he owns shares with Energy Financial Partners, the company constructing the $3.8 million pipeline.
While the Secretary of the Army instructed the Army Corps to move forward with the project, it could still be some time before it comes to fruition, with a court ruling expected this week determining the outcome of the project.
For the Standing Rock Sioux, the project could prove disastrous to their regional water supply and lands they consider to be sacred.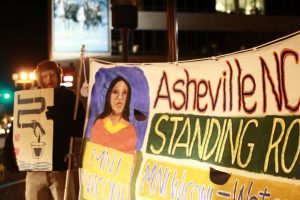 Lowman stresses how continued persistence against the pipeline and injustice in general remains key.
"It's good to show up," Lowman said. "But, you have to be doing things behind the scenes and continuing to be active."