Maggie Haddock
News Staff Writer
[email protected]

The Society of Automotive Engineers have found a home in the newly opened STEAM Studio to assemble an electric car ready to compete in the international Formula SAE race in June. The car recently transitioned from the design phase to the assembly phase, utilizing the STEAM Studio which opened in December.
"Here on the UNCA campus, this is a new endeavor, so most folks still don't know who we are and what we're up to," said Chad Ekre, senior mechatronics student and project manager of the SAE chapter at UNC Asheville. "Students, some who are still with us, began the SAE student chapter. The student chapter was formed a few years ago, and it's common on campuses that have engineering programs."
With the SAE chapter, UNCA can compete in an international competition through Formula SAE by racing electric cars built by students all over the world, Ekre said.
"It entails building a small, super-high performance electric vehicle and the program is 100 percent designed, built, tested, traveled and raced by students from UNCA," Ekre said. "We'll compete against teams from all over the nation and teams from all over the world, including the Czech Republic, which is the reigning world champion on a bunch of different levels."
The competition, which only allots for 30 teams, closed registration three minutes after opening due to the high volume of applicants, Ekre said.
"No one, except for the winning team from the previous year is even guaranteed a spot. Teams like MIT, NC State and Clemson were unable to enter, so we clicked the button at the right time basically to get the spot," Ekre said.
There are about 35 team members in the chapter of SAE, but only 15 to 18  are active members working at the STEAM Studio several days a week and contributing to the development of the car, Ekre said.
Jordan Ellege, a senior mechatronics student, takes charge of different sections of development.
"I design the braking system for the car. What that entails is making sure the brakes are strong enough for the car so that we make sure people can stop safely and follow the rules," Ellege said. "We want this car to go fast, but we also want to be able to slow down when we're racing it so we can get around the corners quicker and that's one of the main challenges that I see a lot."
UNCA's chapter of SAE started in 2015. Ellege joined shortly after the organization began and largely contributed to the team.
"For us, it kind of really says 'UNC Asheville' on it because, especially in this new shop we're in now, we're all about cutting edge technology and that is the next thing that's up," Ellege said. "It's good for the environment. It's really something new to learn and it just really looks good."
The project challenges SAE's members, as none of the students involved have built cars prior to joining SAE. Although professional engineers can be consulted periodically, students perform all of the work on the car, Ekre said.
"A lot of it is learning as we do it. None of us have built these vehicles before, so we are having to regularly reassess and seek professional advice at times to try to help understand what we're going to do," Ekre said.
The members of SAE really enjoy working on the project and prove to be efficient about their assignments to the project, Ekre said.
"The folks who implement this stuff, they love being in the shop. They love figuring out how to do this stuff and we tend to task assembly jobs they get done quickly, not because we have to ask, but because they really want to be here and really want to work," Ekre said.
The competition focuses on more than racing. The team must design a strategic business plan and market the car as if it were for sale, Ellege said.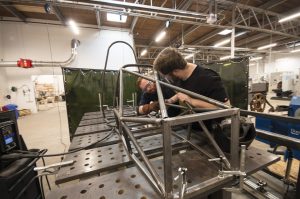 "Essentially, we're being our own car company, so everything from design and building to marketing," Ellege said.
The team, of which engineering students make up the majority, find challenges in designing the business plans. The project demands more than just the assembly of the car and requires a diversity in skill, Ekre said.
"There's a large business aspect to it as well that involves simulating the build of the car we're working on to race," Ekre said. "We have budgets to manage, a lot of presentations, a lot of deliverables specific to business aspects. As engineering students, a lot of us aren't super great at the business side or aren't super interested in it."
According to Lindsi Jones, a senior mechatronics student and the business lead of SAE, the STEAM Studio will open up new opportunities for SAE.
"Now that STEAM is open, we've talked about taking our meetings more into a skillshare frame of reference," Jones said. "There is so much machinery in there and it's all really cool, but we all don't necessarily know how to use it. The cool thing about the team is that at least one person knows how to use one machine."
Since the members of SAE have different skills from one another, they all benefit from each other, Jones said.
"Everyone has a different level of experience and we share that with the whole team," Jones said.