Rachel Van Noordt
Arts and Features Writer
[email protected]
She said her love of baking ignited the day her friend showed her a piping bag about seven years ago. She thought it was beautiful.
Liz Acker, an alumna of UNC Asheville, runs a small, homegrown cupcake business. She began baking for fun with her friend while she was in high school. Acker was particularly drawn to baking cupcakes. Since starting at UNCA, she has turned her hobby into a small business out of her own kitchen. For her college graduation gift, she asked her family for a Kitchen Aid mixer. She uses her light blue mixer and a homemade apron often.
Outside of baking, Acker enjoys mountain biking and snowboarding. She considers herself a jack of all trades. She graduated with a degree in general music, works full time at a bank and single-handedly runs her business, Cupcakes by Liz. But what makes Acker's cupcakes so unique are the ingredients.
Beyond flour and sugar, she uses sage, lime, chai, Baileys and Canadian maple syrup, to name a few. Currently, Asheville beer has become her inspiration. She dubbed this theme the Asheville brewery tour. Her friends are fully supportive of her hobby-turned-business.
"Liz has some serious talent and I love the way she's incorporated local beer into her cupcakes flavors — that's about as Asheville as it gets," Julie Bacon said.
So far, Acker has pioneered cupcakes including beer from Asheville Brewing Company, New Belgium Brewing Company and Highland Brewing Company. Recently, Acker created a New Belgium Citradelic Tangerine IPA-inspired cupcake. The base featured this beer and the icing included blood orange juice. It was then topped off with homemade candied orange peel.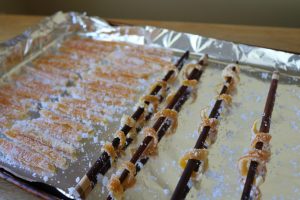 Acker said she enjoys inventing savory types of cupcakes. One of her favorites includes a bacon and jalapeno cornbread base, topped with a honey buttercream icing. A more unusual combination was her butternut squash and sage batch.
"I know I've done zucchini ones, and I've done cucumber ones. I had a little series, because my garden had way too many in there." Acker said. "I did a cucumber lime, a cucumber ricotta, and then my favorite was a cucumber mint with blackberry icing."
Seasonal flavors help Acker come up with new flavors. She also draws inspiration from treats such as Oreos, Butterfingers and Twix.
"Liz has taken cupcakes to the next level," Alex Matthews said, a friend of Acker's. "There is no telling what kind of wild combination she is going to show up with, but you can guarantee you are going to want one."
Though Acker does not have her own storefront, she readily takes commissions and enjoys catering events. She admits her single oven and limited work space would not be ideal for opening a full-scale business, but is content with her current setup. The prices of cupcakes vary per batch, depending on the complexity of the recipe. In the past, she designed purple velvet cupcakes for a wedding and was asked to create cupcakes for a wine pairing event. She is also open to exploring new cupcake flavors.
Acker said a simple tip to improve one's baking skills is to sift the flour before mixing it. She said it made a big difference in her cupcakes.
"Follow the recipe," Acker adds with a laugh. "Don't try to improvise too much."