Brooke Randle
News Writer
[email protected]

Among the rows of books, magazines and computers filling D. Hiden Ramsey Library, students may soon be surprised to find a new resource available for checkout: seeds from local plants grown on campus.
Spearheaded by Resource Management Librarian Barbara Svenson and Library Administrative Assistant Wendy Mullis, the proposed seed library, which aims to open in spring of 2018, will provide students and community members with free access to seeds from plants grown on UNC Asheville's campus.
Most seed libraries function by providing seeds to library members who then harvest and return the seeds the following season. The Ramsey seed library, Svenson said, will have a no-return policy, meaning students may use seeds without having to bring them back the following year.
"If all the seeds get taken that year, then the next year we replenish and that just lets us avoid the issue of whether the seeds that someone brought back were not what they thought," Svenson said.
Another feature setting UNCA's seed library apart from others throughout the country lies in the focus on local plants, which encourage pollinators such as butterflies, honeybees and hummingbirds.
"Ours is unique because, for right now, I only know of one other program in the country that's focusing on native pollinators," Svenson said. "So for us, that's our own special thing. We're focusing on wildflower pollinators in hopes to spread varieties that will thrive."
Some plants soon to be offered include ornamental fennel, echinacea and black-eyed Susans, all of which tend to flourish in Asheville and the surrounding area. Mullis said most store-bought seeds grow in generic greenhouse environments and may not adapt to the climate of Western North Carolina as well as indigenous seeds.
"When you go to a store, you don't know if you're getting a native plant or not. Most of the time, they don't carry that kind of thing," Mullis said. "Here, you know that you're going to get a native plant and you know you're going to get a pollinator because it's a controlled area. You'll know exactly where it's coming from."
Mullis and Svenson said the team began collecting seeds last summer in order to learn the process of seed saving.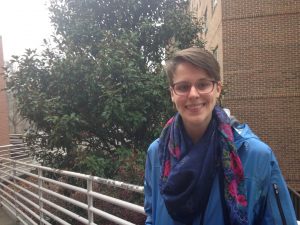 For Shannon Bodeau, a junior biology student and assistant director of the Student Environmental Center at UNCA, the prospect of a seed library on campus brings a lot of excitement.
"Seed saving seems really important to me, whether that's with food or flowers or native forest plants," Bodeau said. "I know of other seed libraries and this is just a great opportunity."
Bodeau, who manages the ROOTS Garden, the largest of UNCA's gardens, said after the seed library launches next spring, she hopes vegetables will be included among the plants being offered. Bodeau said seed libraries encourage biodiversity, which in turn helps sustain soil health and keep local pollinators thriving.
"That's what, to me, feels a lot more real about seed saving," Bodeau said. "It's not so much how many artisanal varieties of kale can you grow. It's asking how we preserve biodiversity so that we don't lose an entire crop that provides a giant chunk of our nation's food."
Bodeau said during this year's semi-annual Greenfest, a series of workshops and events led by the SEC and the Office of Sustainability, students will have the opportunity to learn more about the importance of seed saving and seed libraries through panel discussions and a screening of the documentary "Seed: The Untold Story."
For Bodeau, the seed library initiative will provide a way for students to be directly involved with preserving native plants for generations to come.
"Seed saving is really important because we do have this decline in biodiversity, both as a result of industrial agriculture and also as a result of climate change and habitat destruction," Bodeau said. "So when we save seeds, it almost feels like kind of an ark, to me, kind of like Noah's Ark. We're protecting very tangible life and making sure that we get to keep it."