Rachel Van Noordt
Arts and Features Writer
[email protected]

Most students at UNC Asheville could tell you where Belk Theater is or where to find the best coffee on campus, but what about the smoothest sidewalk? For Darby Mitchell, finding the best canvas was essential.
Mitchell is a freshman art student from Statesville. She creates her own legacy on the sidewalks at UNCA with temporary art pieces. Mitchell's first chalk art creation was done at her high school. It was a simple word-art drawing, but people loved it. Since then, she has completed about 10 pieces. Mitchell says graffiti inspires many of her pieces.
"I got really interested looking at different images of street art, but I always saw that they were done with spray paint, and I wanted to do that, but I didn't really know how to integrate myself into that type of graffiti," Mitchell said.

She developed her current style after becoming inspired by chalk artist Julian Beaver. Rather than pursuing a more permanent graffiti art, she creates vibrant pieces of a similar style with chalk.
The process begins with creating an outline with compressed charcoal. Mitchell admits the charcoal is more resilient than the rest of the piece. Outlines of previous works can still be seen on the campus' sidewalks. Though Mitchell meant for it to be temporary, an outline of President Trump can still be seen in front of the flagpole.
To get bright, blend-able colors, Mitchell uses pastel chalks rather than traditional chalks. She adds color until the sidewalk cannot be seen underneath. She then carefully blends the colors to get a smooth look. This is usually done with her fingers, and the callouses on her hands prove it.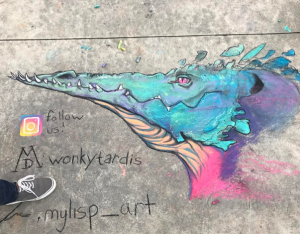 Her unique method makes her art distinguishable from other sidewalk adornments, but her signature is also iconic. Mitchell was inspired by Albrecht Dürer, an artist from Germany, who would simply sign with two large initials stacked one on top of the other. Mitchell adopted this same style, placing a large 'M' above a smaller 'D' next to her art.
Jacob Rosier, a fellow 2-D art student and friend of Mitchell's, recently merged their talents on a collaborative piece. Rosier created the outline of a dragon with compressed charcoal and both chalked the dragon with vibrant colors.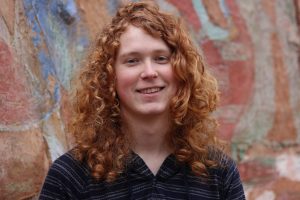 "It sucks because it rained right after that. It was up for 15 hours and most of those hours were nighttime. That's part of it, though," Rosier said.
The pair are planning to work together again on a large-scale project. Mitchell said each piece takes about 5 to 6 hours to complete, so this piece could take up their weekend.
Because Mitchell works with chalk, the art she creates is temporary. Her art battles the threats of being washing away by the weather and being smudged by campus foot traffic. This was a difficult adjustment at first.
"It took a little while for me to grapple with the fact that, you know, I'd be creating something that would be washed away by rain or by administrators or it's something I might get in trouble for, but I wanted to try it anyway," Mitchell said.

Mitchell's favorite piece happened to be one that stayed intact the longest. It was of a blue monster writing "seriously creative" on the sidewalk. She said this particular piece seemed to gain a lot of traction. She happened to draw it in time for campus tours.
Though many artists are hesitant to share their craft with others, Mitchell said she would be willing to teach the basic technique to those who are genuinely interested. Zax Milkereit said this is how he met Mitchell. As she was chalking a Black Lives Matter piece, Milkereit asked if he could help. Though he had no experience, he was able to take part in her project.

"Having something so incredible and so beautiful and so detailed on this thing that we take for granted, that's really refreshing," Milkereit said.