Sarah Shadburne
Arts & Features
[email protected]
If students have been noticing the massive amounts of black and purple stickers populating even the most obscure surfaces of campus, wonder no further: it is time for Echofest.
Echofest will take the UNC Asheville campus Friday with four stages, showcasing more than 30 local and touring musicians.
The festivities will begin at noon and continue until 11 p.m., with an art raffle from local artists, food and diverse music to bring the community together.
The festival attracts a multitude of funky bands and people to support the community through partnership with Helpmate, a local shelter for victims of abuse.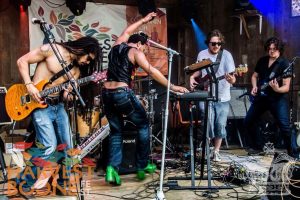 CHIT NASTY BAND
The funky soul-rock of the Chit Nasty Band comes for the emotions of listeners — but only the fun ones. Its sound dances, gets down and grooves in an attempt to trigger pure ecstasy in its audience members.
"Music is incredibly liberating for me," said Christian 'Chit' Foushee-Green, vocalist and keyboardist of the Chit Nasty Band. "We all come together as one thing and play off each other. This is the kind of music I really dig."
The Chit Nasty Band synthesizes from an array of different musical backdrops, from Foushee-Green's upbringing in the music of the black church to their appreciation of formulaic pop anthems to outright rock 'n' roll. When they come together it is all about the groove.
"Growing up my biggest influences were Jimi Hendrix and stuff like that where I'd turn to a guitar solo and physically have to make a face like I smelled something real bad," Foushee-Green said. "I love it even more when I can look over at one of my band mates and they're doing that same stank face."
Guitarist John Faltass grew up playing blues, but finds himself and his playing style invigorated by his trips to the Caribbean where the Rasta principle of Livity directs his energies.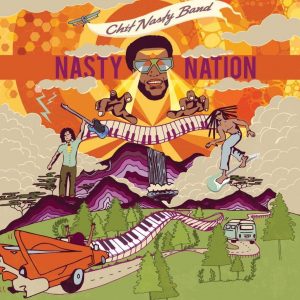 Livity, according to Faltass, dictates that when a person treats their body right, whatever lies within will flow out with greater ease and success.

"You think of each song as a dish, you can't really have a rockin' song without those different flavors," Faltass said. "You can't just put ketchup in it and expect it to be awesome."
Faltass will be celebrating his 29th birthday on the day of Echofest.
"We're gonna be celebrating life," Faltass said. "I'm planning on sharing my birthday with the whole town of Asheville."
Faltass and Foushee-Green seek to give their music a life inside two eternal words: party time.  
"My goal is to be out-danced," Foushee-Green said. "We know Asheville is the best but we need y'all to prove it. I'm looking forward to not just seeing what we can do for Asheville, but what Asheville can do for us."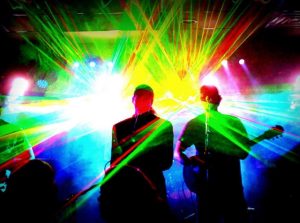 PSYLO JOE
For improvisational band Psylo Joe, variability makes a show pop. Sensitive to the energies of a room, these musicians craft their set list based on the sway of the crowd. The Grateful Dead-loving five-piece returns to Asheville after six months of absence while on a mission to make people move.
"We love festivals," lead guitarist and vocalist Bryan Quintard said. "They bring all different types of music and people to the event. You really get to connect to the people and the music at the same time, and that's what Psylo Joe is about."
Growing up, Quintard always appreciated bands who made mistakes while improvising, as it made him feel more connected to the musicians as people. With that spirit, Quintard and rhythm guitarist George Thornton express the same graciousness with their own improvisational styles.
"Each of our shows are always different," Quintard said. "We usually don't play a song the same way twice. We really draw from the crowd and their energy."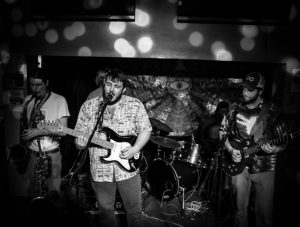 Quintard and Thornton find themselves and their bandmates experimenting with divergent areas of music, taking their various musical backgrounds and creating a fusion-filled show punctuated by long jam sessions.
"When we're feeling good energy from the crowd that's when we feel like we can really let loose with the improvisational stuff," Thornton said. "That's when the magic happens."
Psylo Joe currently has a new album in the works, but mostly look forward to expanding their reach, Quintard and Thornton both said.
"Definitely expect a high-energy rock 'n' roll set that'll keep you groovin'," Quintard said. "We love bringing upbeat psychedelic funk."

THE FREEWAY REVIVAL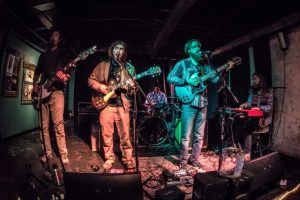 The music of The Freeway Revival chronicles a journey, through life on the road and the various experiences that follow in funky, bluesy rock 'n' roll speak.
"Where the music takes us, once we're there it's the music playing us," lead guitarist Tim Husk said. "Once it gets there, there's no trying to reign it in." 
Husk predicts their show will be a mix of all the things their band does best, namely having fun.
"It's a musical experience plus a party," Husk laughs. "You'll get your moments when you're throwing down and everyone's raging and then moments of musical bliss."
The Freeway Revival is currently in the process of recording a new album and will be touring much of the summer. The album will be a rebellion of sorts but for the moment remains untitled, according to Husk.
"What we're trying to do is a revolution through music and the arts," Husk said. "It's kind of political but it's also people trying to spread whatever type of message they have and bring people together."
Husk describes things in the news that make him angry, but acknowledges people spend too much time focusing on the negative. When the band finds themselves lapsing into rare periods of negativity, they play music together until it melts away, according to Husk.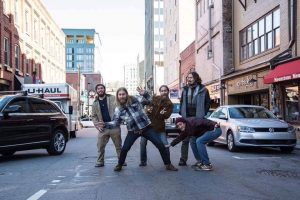 "When you get up on stage you go into a new level of existing," Husk said. "You're comfortable. It's pure energy. Once we get into the groove it's home."
The Freeway Revival seeks to create a new experience for listeners.
"Giving people the ability to connect with someone next to them and have family with everyone," Husk said. "Which is really what we're all trying to do, just experiencing."
The boundless energy of The Freeway Revival not only invigorates the five-piece to rock for themselves, but gives them extra zeal to transport listeners away.
"It's hard to describe a place," Husk said. "There are songs where you're in a spacey place floating in the dark, or on a river or in the woods. Sometimes it gets a little dark, but if the music takes you there you gotta go."