Karrigan Monk
Assistant Arts and Features Editor
[email protected]
Tucked away in a corner on the bottom floor of Lipinsky lies a fully-functional recording studio. The main room features an old couch worn from hours of listening. Across from it sits a state-of-the-art recording console installed a few years ago.
It is here music technology student William Hinson recorded his latest EP, Elevator Music, Vol. 1.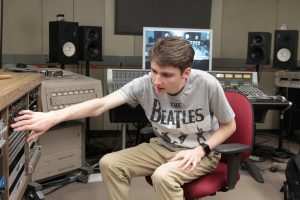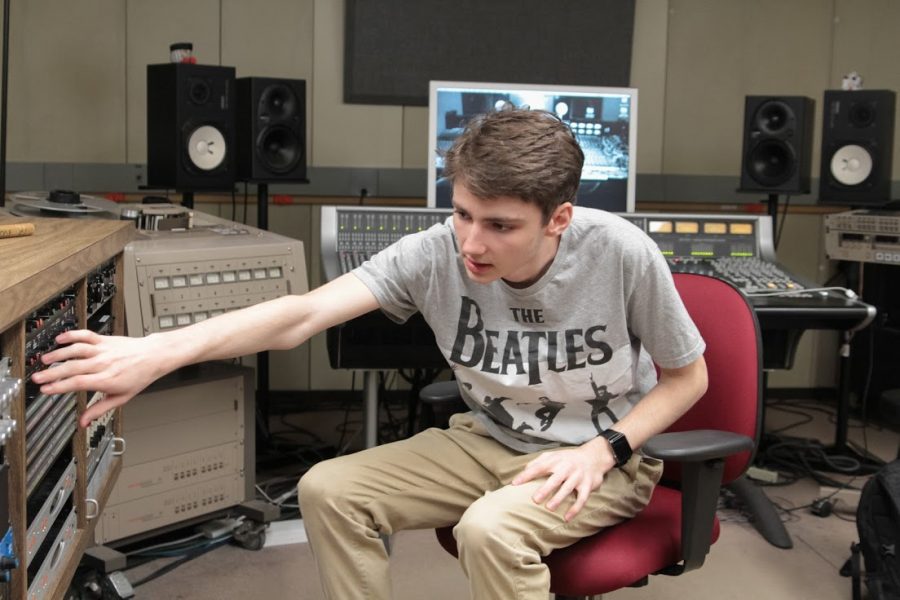 "Elevator Music is something that I've been working on for a while," Hinson said. "We've been recording it since August, but I was doing demos and programming for it over the summer. The first song on it was actually written in December of 2015."
Released on March 3, the EP has been a long time coming for Hinson. He described both of his parents as musical and cites his songwriter uncle as a huge influence on his life. He said one of his sister's boyfriend's really gave him the push to play music.
"I was in the second grade and she was dating this dude that was a musician and I thought that was the coolest shit ever," Hinson said. "I wanted to take guitar lessons after that."
He said he proceeded to teach himself to play guitar and went from there. Although he mainly plays guitar and piano, he said he can program any instrument.
"Back in the day, there was a producer, there was an artist, there was an engineer and then there was an assistant engineer. Now you're virtually doing every single one of those at the same time. You're wearing all of those hats at the same time," Hinson said. "From a production standpoint, I would say you can play just about every instrument because it's in the computer. If you can play the piano, you can play anything."
Although it was not his first release, Hinson said he is most proud of Elevator Music.
The first song, "…and Here We Go!" was written in his bedroom. This is the sole song on the album that was reworked during recording. The other four songs are nearly identical to their original demos.
Although Hinson wrote and produced the EP himself, he said he could not have done it without his team.
"I used to think this is one of those things you do by yourself, like you were Chance the Rapper and you just sat in your bedroom and you just made music and for some reason people were just supposed to see it and then things were supposed to happen because you were who you were," Hinson said. "That's not the way it is. Nothing is accomplished by yourself anymore. I'm very proud of this team that we have."
The members of the team Hinson built were involved in virtually every aspect of the recording. Nick Bump engineered the entire album. Josh Garrett served as an art director and put together video advertisements. Angelica Henry painted the cover art. Blaine Pugh is Hinson's best friend and manager.
Hinson said he is closest to Pugh and Bump, both of whom he met when they were all in the seventh grade. Pugh said he became Hinson's friend the moment Hinson introduced him to John Mayer on a bus to Disney World.
Hinson and Pugh collaborate on music often, but Elevator Music marks the first time something they created together has been recorded.
"I produced a very special track on Elevator Music called 'I.B.W.O.Y.F.S.L.' It was our first record-worthy collaboration," said Pugh. "William stepped outside of his musical realm on this one and it had a huge pay-off."
The acronym, which stands for, 'I've been waiting on you for so long," came about after Pugh saved the original beat for the song. He said he named it because it was the first time he created a beat and didn't want to second-guess its worth. When they got together, Hinson took the name of the file and wrote a song around it.
Bump, who engineered Elevator Music, met Hinson in seventh grade gym class.
"I've always enjoyed helping William with his music, going as far back as making YouTube videos in middle school," Bump said. "Since we're both music technology majors now and I'm fairly familiar with his style and preferences, it was easy for me to adjust to this album."
Hinson's style is largely inspired by his favorite musicians, including those such as The Beatles, John Mayer and The 1975.
While already working on volume two of Elevator Music, Hinson is also preparing to play UNCA's Echofest on Saturday. He said he is excited to play in the greenhouse this year after playing in Highsmith the past two years.
For Echofest, Hinson will be playing by himself with his guitar and a looper, but he is working to put together a band to do the recorded songs justice.
Hinson said he is thankful for the response Elevator Music has already received.
"I think everyone who wants to do music and wants to pursue it, everyone wants to be famous, everybody wants to be a rock star or whatever. But now I think I've sort of come to terms with the fact that that doesn't happen all the time," Hinson said. "People make really, really good music and they're unknown. I want people to relate with my music the same way I related and was influenced by my idols growing up."