Sarah Shadburne
Arts & Features
[email protected]
What could potentially take professional film crews thousands of dollars and years of planning, a team of UNC Asheville's film and drama students have completed in the course of a semester. The senior seminar dramatic feature film about two down-on-their-luck brothers Mountebank emerges from the meticulous scramble of production to make its debut in May.
Anne Slatton, a lecturer of video production and film studies at UNC Asheville, directed and served as the executive producer of the film alongside students from her senior seminar feature film production class.
"The students have been so dedicated, more than I ever could've hoped for," Slatton said. "We're pretty much a well-oiled machine by the last shoot."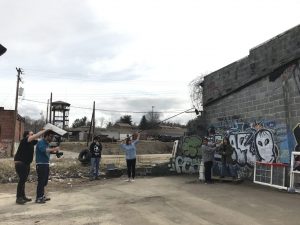 When Clint Owens, a former student of Slatton's, reached out to her for a graduate school recommendation, she remembered this particularly visual script he wrote in one of her classes and offered to produce the film for him.
"He was really excited about it," Slatton said. "I wrote a couple grants and got some money so I could pay him and pay a composer, and pay for food for the crew, film festivals, props and all the other crap you need to pay for, and it's worked out pretty well."
The story of Mountebank runs about 30 minutes long and chronicles the loyalty between two fatherless brothers who support each other as grifters. They meet a charlatan named Mountebank, with whom the brothers get into an array of dangerous situations and schemes.
Slatton approached UNCA's Chair of Drama, Design and Technology Rob Bowen about a year ago asking if he wanted to come on board as art director with some of his students.
"I thought this would be a wonderful opportunity for our students to learn how their skills in theater transfer into another industry," Bowen said.
As the film's art director, Bowen supervised students who did costumes, makeup, setting and special effects ― such as gunshots, haze, cars dropping on people and lots of blood.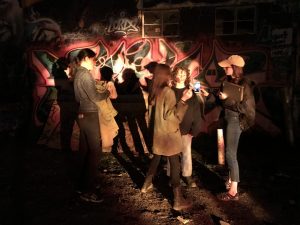 "We did our final shoot in our acting lab here, which required fog and things that would normally trigger the fire alarm, or because there was gunfire it would trigger campus police," Bowen laughs. "We were testing this during spring break to make sure we wouldn't set off alarms and campus police was more than accepting."
The collaboration between the mass communication and drama departments is the first of its kind, enabling students of both concentrations to network and gain experience on working on a real, professional production crew.
Maddy Swims and Holden Mesk,  senior mass communication students and public relations managers for Mountebank, echo the sentiments of Bowen and Slatton.
"Working on this film has honestly been in my top favorite college experiences," Swims said. "We've all sort of become a little family on set and we all work really hard. On our last shoot day, everyone was saying, 'Hey, maybe we need a part two!'"
Swims and Mesk will graduate in May when the film comes out and said, although they primarily do public relations, they also bounced around as production assistants doing whatever tasks needed accomplishing, such as boom pole operating and capturing audio.
"The goal I had hoped to achieve through my involvement with the film has already happened: to come out of all of this with a greater understanding of filmmaking," Mesk said. "Through every shoot day and pre-production day I have learned so much about what goes into making a legit movie. Because that's what it is — a legit movie!"
The premiere of Mountebank will be screened at no cost to viewers at 10 p.m. on May 11 at Asheville Pizza & Brewing Company.