Rachel Van Noordt
Arts and Features Writer
[email protected]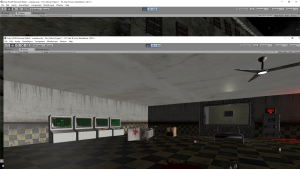 A new course on campus combines coding and animation to create new realities for virtual reality.
Kenneth Bogert, Ph.D., began teaching virtual reality this spring semester. The class is offered to advanced computer science and new media students due to the level of technical skill needed to create these environments.
Bogert said the course is based on groups working together on their projects. Each team is comprised of a computer science student and a new media student. The groups must complete three VR projects throughout the semester. The projects are not necessarily games, but must meet course requirements.
"This course has a large amount of technical requirements the students must meet including 3-D model design, project management and software development for games," Bogert said.
The lab space used by the VR course includes new, high-capacity hardware. Some of the hardware includes two HTC Vives, Alienware desktops, haptic displays, as well as hand and full-body trackers and controllers.
Virtual reality stands apart from other interfaces due to its fully-immersive display. The environment one enters is a complete 360-degree of interactivity.
Felicia Buchanan, a senior computer science student in the VR course, said her first experience with virtual reality was surprising. Suddenly she was in a VR horror game, forgetting she was safe and sound on her friend's couch.
"It blew me away! I realized how powerful a medium VR is, allowing you to completely forget the real world and become immersed in a virtual one," Buchanan said.
Buchanan's group partner, Finn Barrett, had only seen VR played online before entering the course. Barrett was skeptical of VR before they tried it — they doubted the environment would be as immersive as they found it to be.
"Honestly, I doubted that it was going to be as immersive as it is, but once you put on the headset and the headphones  — aside from sense of smell and taste and touch — it's immersive enough in its visuals and its audios to make you forget you're wearing a headset," Barrett said.
Barrett and Buchanan are in the process of creating a horror game based on an abandoned hospital. This was inspired by the group's love for horror games and the abandoned Waverly Hills Sanatorium in Kentucky.
A difficulty the group ran into with creating VR environments was learning to avoid inducing nausea on the user. Barrett said causing motion sickness is oddly easy to do with a VR system. Barrett even admitted to making Bogert suffer from motion sickness.
"We had a glitch in the game when he was demoing our first project," Barrett said.
An object in their game shared the same space as another, causing other images to jump around. Beyond that, Barrett said sizing objects in comparison to a human can be time-consuming.
Though the drawbacks of current VR systems include numerous cords, short battery life and limited accessibility, VR is no longer a thing of the future. Since VR equipment has reached consumer level, Bogert said the possibilities of this equipment are expansive. He said this technology could be used for nearly anything ranging from medical treatment for PTSD, flight simulations, data visualization, art or movies.
"Additionally, as a developer, VR opens so many creative avenues that one can explore. Altering and controlling a user's perception of reality is a momentous but rewarding task," Buchanan said.