Student parents deal with grades and diapers
Sarah Shadburne
Arts & Features
[email protected] 
With the growing number of non-traditional students, student parent Cara Forbes, a 23-year-old UNC Asheville literature student, raises her 13-month-old daughter Naomi while working two on-campus jobs and said she would like to see the university offer more options for students like her.
Student parents who raise dependent children while getting their degrees make up 26 percent of the college population, translating into roughly 4.8 million people, according to the Institute for Women's Policy Research.
"Daycare won't always let her in for one reason or another," Forbes said. "She may just be teething, but when she has a fever the daycare won't let her go in again until she's been without a fever for 24 hours. So that's when I take her into class with me. I won't bring her in when she's sick."
Forbes began bringing her daughter to classes when she was six months old and could easily be held through the lecture.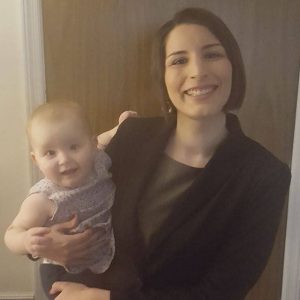 "It's gotten more difficult since she's started walking, the last time I brought her into classes, I had to leave early," Forbes said. "She wanted to run around and play and I have three back-to-back classes and a lunch break in between, so that's a long time for her to sit still."
The Institute for Women's Policy Research reports over 40 percent of students raising dependent children work full-time or more, and about half spend 30 hours a week on caregiving activities.
Forbes wanted to see more accommodations for student parents on campus, so she served as the executive of student initiatives last year with Student Government Association in efforts to push a Parents as Students Support initiative to provide resources for pregnant and child-raising students.
"I'd like to see PASS become a long-term student initiative," Forbes said. "The more that we have students raising dependent children come up and voice their concerns and raise awareness of their obstacles, I'm positive that people will be receptive to it."
Forbes worked on this initiative closely with Student Body President Charlie White, who said he created the executive of student initiatives position to be very open-ended, but hired Forbes when he saw her level of passion and dedication for PASS.
"The aim of PASS has been more to learn who our parenting students are and provide support to them," White said. "Forbes has put together a resource packet encompassing services provided by campus and in the Asheville community that parenting students might find helpful."
White and Forbes said they believe the campus would benefit from a child care center on campus, between students, faculty and staff with young children.
"For a campus of our size, a full-fledged child care center might not be feasible, but the university could explore other options," White said. "They could, for example, work to connect parents to resources in the Asheville community or foster a network of students willing to."
Forbes said her professors have been lenient letting her bring Naomi to class and so far everyone has been welcoming. Assistant Professor of English Evan Gurney, a father himself, has had Forbes and Naomi in class and welcomed it with open arms.
"I've had three students over the past four years who have been young mothers who have needed to bring their children to class," Gurney said. "In every instance, it's enriched my classroom."
Gurney said having a child in the classroom serves as a healthy reminder to all students to remember the rich mess of life outside the classroom.
"It can kind of raise the stakes a little bit when it comes to the questions we're asking and the conversations we're having," Gurney said. "It's a useful thing to have the prospect of the next generation in mind, innocently chewing a pacifier."
Gurney began thinking of ways to make his classroom policies more flexible and accommodating for student parents when he was raising an infant himself and knew the struggles of trying to juggle all of one's responsibilities along with parenthood.
"It's worth faculty thinking about in terms of a syllabus policy," Gurney said. "Having young children or parents of young children in class provides an additional diversity of perspective that is always enlightening the conversation."